| | All Materials | Description | |
| --- | --- | --- | --- |
| | PC | Excellent impact strength, superior mechanical properties, high strength and stiffness, dimensional stability, good machinability, good electrical properties. | Get Instant Quote |
| | POM | Superior impact and creep resistance, high strength and stiffness, low coefficient, excellent machinability, dimensional stability, low moisture absorption. | Get Instant Quote |
| | Nylon | Good mechanical properties, excellent thermal resistance, wear and abrasion resistance, high corrosion resistance, lightweight, high strength and toughness. | Get Instant Quote |
| | PMMA (Acrylic) | Excellent optical properties, scratch resistance, good polishability, high UV tolerance, good flexural strength. | Get Instant Quote |
| | ABS | Excellent impact resistance, high strength, good stiffness, good Paintability, good machinability, low cost. | Get Instant Quote |
Types of Plastic CNC Machining
There are two main technologies for plastic CNC machining: CNC Milling and CNC Turning.
CNC Milling is the most common and popular machine in CNC manufacturing. CNC Milling machines utilize rotary cutters to remove material from a part mounted on the machine bed. There are different types of CNC Milling systems, the most common type is 3-axis CNC machine. 3-aixs means the system has 3 linear degrees (the X, Y, Z axes) to produce parts. While the advanced one is 5-axis CNC machine, which owns 5 degrees of machining freedom and is suitable for creating parts with highly complex geometric geometries. Besides, 5-aixs CNC Machining is ideal for simplifying manufacturing steps.
CNC Turning, or we call CNC lathes remove material from workpiece mounted on rotary chucks by utilizing stationary cutting tools, which is an ideal solution to producing parts that are symmetrical about a central axis. Therefore, CNC lathes usually make cylindrical parts. But if CNC Turning systems equipped with CNC Milling tools, non-cylindrical parts can be manufactured as well. It can be a versatile solution for manufacturing. Combining high productivity and efficiency of CNC Turning with machining capabilities of CNC Milling, the system is being able to manufacture parts in a variety of geometries with rotational symmetry.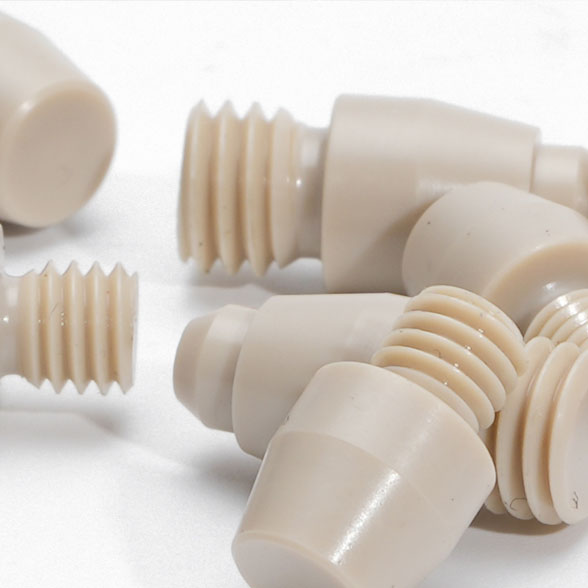 CNC Machining produces parts with very tight tolerance, which means the technology can create parts with extreme high accuracy. And, CNC machining tends to create final plastic parts with no defects, and the final plastic parts can be used directly in applications.
Most materials of plastic CNC machining have good mechanical properties, making end-use functional ang high quality parts is easy.
CNC Machining is the most cost-effective manufacturing process to produce plastic parts from single prototypes to low-to-medium volume production.
CNC Machining needs less workers to operate as most of the process is automatically, which save personnel cost and enhance personnel safety.
Wenext offers a comprehensive range of CNC machining services for plastic parts from rapid prototyping to mass production. With over 400 sets of CNC Milling (3-axis & 5-axis), CNC Turning, EDM, and Wire Cutting machines, our in-house capacity ensures your requirements are satisfied, with no minimum order requirements and no hidden costs.
1. What tolerance standards do you guarantee?
The standard tolerances contain 100µm, 50µm, 25µm for CNC machining.
2. What is the maximum dimension you can machine?
The maximum machining size for CNC service is 1000mm * 1000mm * 600mm. For more sizes or the minimum machining size, please contact our Customer Success Manager or email hello@wenext.com.
3. How much does your CNC machining service cost?
Prices are based on the structure of the part, order volume, materials used and manufacturing process. Please contact our Customer Success Manager or email hello@wenext.com for more information.
4. How to track the status of my job?
You can check your order status on the Administrator-Order page.
5. What kind of surface finish can I expect from the parts?
We provide a variety of surface finishing options, please select surface finishing Here.
6. How long can I expect the parts?
Our standard lead time of CNC parts is 4 business days; however, lead time may be affected by part size, materials availability, order volume, etc. Please contact our Customer Success Manager or email hello@wenext.com for more information.
7. I can't find the material I'm looking for, what do I do?
Please contact our Customer Success Manager or email hello@wenext.com. At this time, we do accept customer supplied materials for machining.
8. Can you design and make drawings for us?
We don't have professional designer team at this moment. Please contact our Customer Success Manager or email hello@wenext.com if you need design suggestions or manufacturing advices.
9. Can CNC machined parts be powder coated?
Yes, you can check surface finishing options Here.
10. How many plastic materials do you offer?
We offer PC, POM, nylon, acrylic, and ABS for making CNC plastic parts.