In CNC Machining world, there are multiple ways to make custom parts, in which CNC cutting and laser cutting are two popular ways. Both the techniques have similar methodology, but what are the differences? In this article, we'll learn about CNC laser cutting to help you choose the right manufacturing service.
Part 1. CNC Metal Cutting
CNC metal cutting is to use CNC to cut and shape metal parts into desired geometries and specifications. The main types of CNC cutters are CNC routers and CNC laser cutters. Both of the cutting technologies are capable of producing precision parts and components. CNC routers and CNC laser cutters perform similar functions, making the differences between them can be confusing, so we'll discuss this later.
Fabricate metal parts by cutting is a precision process of subtractive manufacturing on a block of raw material by programmed software under computer control. CNC routers and CNC laser cutters are able to make precision metal parts efficiently and productively. The cutting tools of the machines can automatically cut the workpiece in any number of axes as programmed. CNC metal cutting is a cost-effective manufacturing solution to guarantee product quality and boost production cycle. In next section, we'll make a quick comparison amongst cutting tools.
Image Source: Falcon Precision Limited
Part 2. CNC Cutting Tool
CNC cutting tools are controlled by the programmed systems, and they are the important parts in CNC machining. A cutting tool is the system that removes materials from the workpiece under computer control. It is mounted on the spindle of a CNC machine that guides the tool where it needs to go according to computer instructions. Cutting tools rotate at a high speed to remove material from the workpiece and cut many tiny chips in different angles, and then eject away from the workpiece. Some tools contact the workpiece at only one point, while others, such as end mills, contact the material at multiple points.
Most CNC cutting tools have multiple flutes, which are helical flutes that run down the out side of the tool. The number of flutes depend on the raw material. For soft materials, cutting tool with fewer flutes is preferable because wider flute leaves much more room for chip evacuation. A higher number of flutes increases speed and is suitable for harder materials, but it may cause chip jam because each flute is narrower. Different tools affect how much chips are removed from the workpiece, as well as spindle speed and feed rate.
Cutting tools also have various materials to make sure the tool can cut through the workpiece. However, since CNC metal cutting used to create parts from hard materials, cutting tool materials are limited. Regularly, carbon steel, high-speed steel, carbide, ceramic are the common materials. Coating for cutting tools is also available, such as titanium nitride, titanium carbo-nitride, super-life titanium nitride, diamond, chromium nitride, etc.
Alright, take a look at the regular cutting tools for CNC cutting:
1. Drill Bit
Drills are cutting tools used to remove material to form holes. The holes always have circular cross-section. Drill bits are usually attached to a drill in order to cut through the workpiece and create holes. Drills are using with standardized drill bit sizes.
2. Twist Drill
A twist drill is a metal rod of a specific diameter with two, three or four helical flutes for most of its length.
3. End Mill
End mill is a tool to create shapes and holes on a workpiece during milling, contouring, drilling, profiling and reaming applications.
4. Face Mill
Face mill, also shell mill, is a circular milling tool with a flat end and carbide or carbide-tipped inserts positioned along its sides. Face mill is a common cutting tool to make a flat face on the surface of a metal plate or bar workpiece.
5. Hollow Mill
Hollow mill is commonly used in screw machines and turret lathes for roughing down and finishing.
6. Thread Mill
Thread mill is a milling tool that designed to cut and make threads.
7. Slab Mill
Slab mill is a type of cutter that used for removing more amount of material from the workpiece.
8. Gear Cutter
Gear cutter is designed to create a gear in different machining process, including milling, hobbing, planing, broaching, and grinding.
9. Fly Cutter
Fly cutter is a cutting tool with single-point rotary, and commonly used on a milling machine for machining large and flat surfaces.
10. Reamer
Reamer is a tool for enlarging or finishing drilled holes. High precision reamer can enlarge the size of a previously formed hole by a small amount but with a high degree of accuracy to leave smooth sides.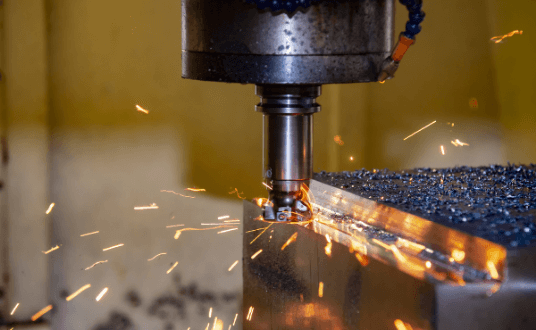 Image Source: CNC Training Center
Part 3. What is CNC laser cutting?
CNC laser cutting is a process of using a CNC laser cutter with a high-energy and focused laser beam to cut and shape the workpiece into desired geometries. CNC laser cutting is capable of making custom extremely accurate products, intricate shape and small functional holes are available as well. Therefore, cutting hard metal workpiece to make precise products with CNC laser cutter is one of the best solutions.
Laser cutter works based on the CNC systems, but using the laser heat to create the desired shape of the product. Laser metal cutting depends on high-energy light beam to burn through the metal workpiece instead of using traditional cutting tools, offering unique and multiple advantages of making custom metal parts. However, it is still a limited solution for specific applications and not working for every material.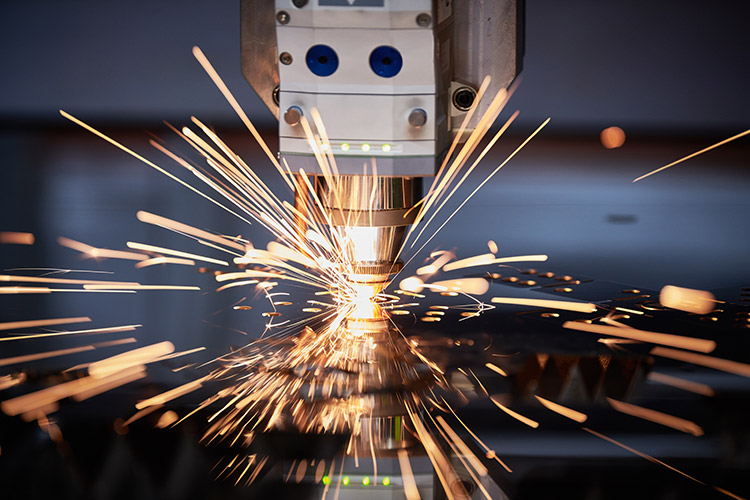 Image Source: Alcobra Metals
Part 4. How does CNC laser cutting work?
Distinguished from CNC cutting, CNC laser cutting create parts without using any cutting tools, which is a non-contact and heat-based process. So, how does CNC laser cutting make parts exactly? CNC laser cutter consists of an import part the release high-powered heat source - the laser head. The laser head contains a laser focusing lens and nozzle. Through the nozzle, a laser beam that creates a very high-intensity light by the laser head and lens, melting and cutting the workpiece to form the final part. And through the same nozzle, CNC laser cutter uses compressed gas to cool the focusing lens and expel the vaporized metal from the workpiece.
Part 5. Advantages of CNC Laser Cutting
1. CNC laser cutting offers tremendous precision. The major reason of fabricating parts and components with laser CNC metal cutting is the incredible precision. Normally, part dimension is limited by the CNC cutting machines and cutting tools. But, with CNC laser cutting, it is possible to achieve detailed cuts as the laser beam can be set as little as 0.1mm.
2. Fabricate clean and sealed edges easily. Since laser cutting melts and cuts the workpiece through high-energy laser heat source, cutting edges are clean and sealed, giving the finished parts detailed and smooth surface finish. Additional post-processing can be reduced or even eliminated.
3. Making intricate designs and small holes can be achieved with high dimensional accuracy and detailed surface finish.
4. No extra cutting tools or custom tools are needed throughout the process, which is outperforming conventional CNC routers and milling machines.
5. Reduce the risk of material distortion and material contamination due to the non-contact nature of the whole process. It is an ideal solution for parts that used in high-end industry, like medical, healthcare, and aerospace.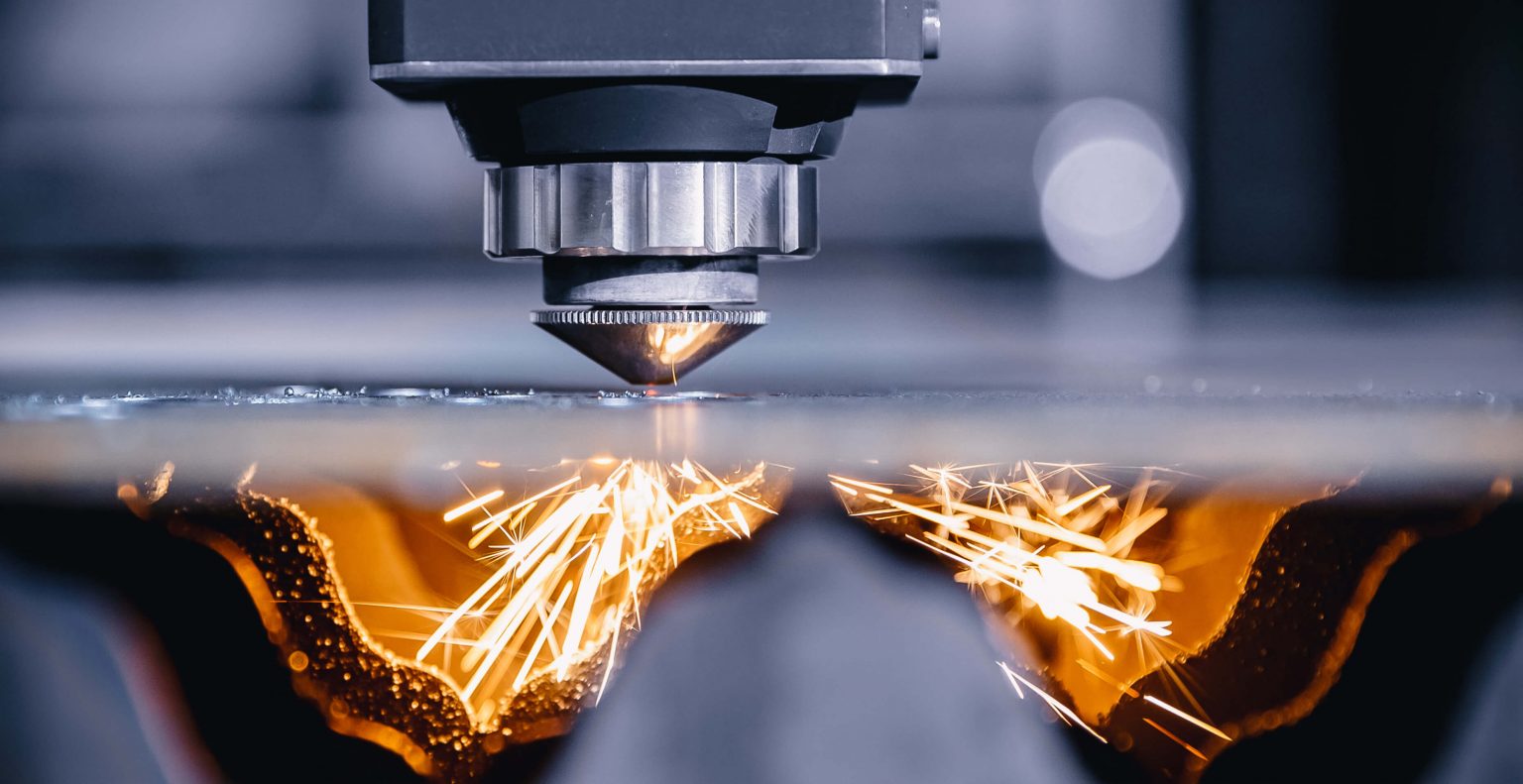 Image Source: Prototype Hubs
Part 6. The Difference between CNC Cutting and Laser Cutting
Firstly, let's flash back to CNC cutting. CNC machine guides the cutting tools based on pre-programmed software to create custom CNC parts. The whole process is under computer control. So, the whole process needs cutting tools to cut, drill, mark or anything need to do with the workpiece. Like CNC cutting, the whole process of CNC laser cutting is also based on CNC systems. The key difference is that CNC laser cutting utilizes a laser beam to burn through the workpiece. It is a non-contact process, giving the final parts clean and smooth edges. With CNC laser cutting, there is no further post-processing such as cleaning, treating, or finishing. Besides, high-powdered laser can cut through the toughest metals with high efficiency, making it an ideal solution for manufacture exceptional and extremely detailed metal parts in metal rapid prototyping.
Both CNC cutting and CNC laser cutting are versatile and highly effective manufacturing methods, especially when fabricating precision parts and components. The one-fit-all solution doesn't exist, no matter CNC cutting or laser cutting, they are not suitable for every application. The differences between CNC cutting and laser cutting make the processes complement each other.
Please feel free to try instant quoting on our website or contact us hello@wenext.com if you are interested.