Conventionally, injection molding, compression molding, and casting are the main processes to produce silicone products. Throughout history, silicone is the iconic material to serve healthcare, electronics, and other fields, which urging us to apply silicone material in additive manufacturing. However, it is almost impossible to 3D print silicone since pure silicone is not being able to be melted into liquid status and then be re-solidified, which is distinguished from other 3D printable thermoplastics. In recent years, new material science and new technology facilitate silicone 3D Printing come out on the market. Besides, based on the excellent thermal stability, water resistance, and biocompatibility, silicone 3D Printing will be another top choice in many industries. Discover more about silicone 3D Printing in this article!
Part 1. Silicone Material and Properties
With outstanding mechanical, chemical, and thermal properties, silicone is a popular material and fond by various industries such as medical, consumer products, life science, automotive industries, etc.
What is silicone and what are the main molecules of silicone? A silicone is a polymer made up of siloxane that formed by silicone and oxygen, which are typically colorless oils or rubber-like substances. However, when it comes to silicone 3D Printing, the most popular and viable form of silicone is liquid silicone rubber (LSR). Silicone rubber is an inorganic polymer made up of silicone, oxygen, carbon, and hydrogen.
Basically, to make LSR a 3D printable material, it requires adding curing agents to the material. Normally, there are two chemicals used in the curing process: platinum and peroxide curing. LSR is a platinum-cured silicone rubber, having benefits such as high tensile strength and tear strength, high visibility and precision, and clean.
However, the properties of LSR are not exactly the same as pure silicone as those curing agents will weaken the material and probably reduce the quality and lifespan of the final parts. Let's take a look at the properties of LSR:
1. Mechanical Properties
Liquid silicone rubber has high accuracy and reproducibility, excellent elasticity, high tensile and tear strength. The hardness range of LSR is between 5 to 80 Shore A.
2. Chemical Resistance
Liquid silicone rubber is resistance to water, oxidation, and chemical solutions like acids and alkali. Besides, it can be sterilized without damaging itself.
3. Biocompatibility
Liquid silicone rubber is hypoallergenic and superiorly compatible with human tissue and body fluids, which is suitable for skin-contact products. Unlike other elastomers, liquid silicone rubber is less prone to bacteria growth and will not contaminate or corrode other materials.
4. Temperature and Stability
Liquid silicone rubber can withstand a range of temperature from 60 degrees Celsius to 180 degrees Celsius, and remain stable.
5. Transparency and Odor
The color of liquid silicone rubber is white and translucent, which can produce custom products in a variety of colors. Moreover, liquid silicone rubber is odorless and tasteless, which is highly suitable for food and beverage products.
6. Electrical Properties
Liquid silicone rubber has excellent electrical insulating properties that can withstand higher and lower temperatures than traditional insulating materials, making it a good choice for electrical applications.

Image Source: Packaging GURUji
Part 2. Silicone 3D Printing - How to 3D print silicone?
Silicone is always considered as a impractical and infeasible material in additive manufacturing industry because of its properties of high viscosity, high temperature resistance, and uncurable. However, scientists and manufacturing companies have been developing new technologies and methods to 3D print silicone. Until recently, there are several techniques emerging to realize silicone 3D Printing, including drop-on-demand deposition, Liquid Additive Manufacturing, and vat photopolymerization.
1. Drop-on-demand Deposition
This method utilize material jetting approach with an inkjet print head deposition and UV light. Drop-on-demand method is to 3D print silicone by blending silicone and UV activating binder and extruding this solution at a time. And then a UV light source activates the binder after each layer. This technique is developed by a company called ACEO whose parent company is Wacker Chemie. However, ACEO Printing Service was discontinued by the end of 2021.
2. Liquid Additive Manufacturing (LAM)
Liquid Additive Manufacturing is a silicone 3D Printing technology that extrudes liquid silicone and then cures the part by a halogen lamp. LAM was developed by German RepRap GmbH, and Dow Chemical Company delivers the 3D printable silicone material. The innovatiQ LiQ 320 is a LAM silicone 3D printer the brand by German RepRap.
3. Vat Photopolymerization (VP)
Vat photopolymerization is a 3D Printing technology that harden liquid-state photopolymer in a vat by selective UV light exposure. In general, Stereolithography (SLA), Digital light processing (DLP), Continuous digital light processing (CDLP) and Daylight polymer printing (DPP) are VP techniques. The reason why silicone works with these 3D printers is that the material is blended with other photosensitive resins, making it curable.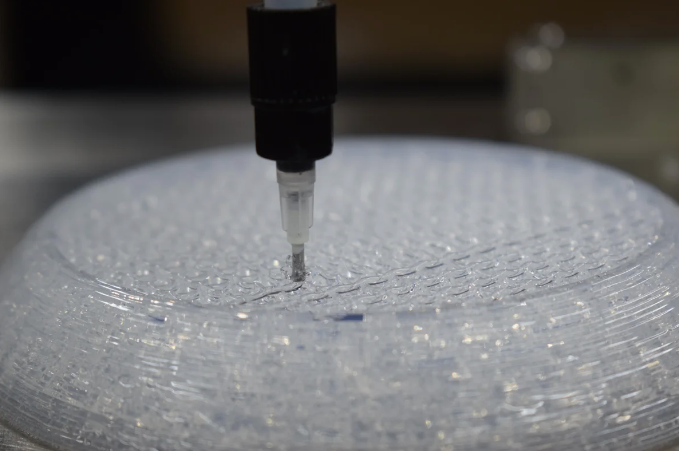 Image Source: Prayasta
Part 3. Silicone 3D Printing - Why to 3D print silicone?
Despite the material properties of silicone, there are many benefits 3D Printing silicone.
Reduce Cost
In the past, injection molding and casting are the main technologies to make silicone products. Before stepping into production, you have to spend a lot on molding. But with silicone 3D Printing, you are allowed to make silicone prototypes cost-effectively and iterate silicone prototypes quickly. Moreover, silicone 3D Printing enables you to re-design or adjust your 3D designs and re-print the silicone parts with minimal costs.
Geometries Freedom
Silicone 3D Printing provides much more design freedom, and it is possible to produce silicone parts with intricate structures and even small interconnected channels. Engineers no longer need to work with parting lines, clamping holes, flues, enhancing practicability and accuracy of each silicone part.
Low Volume Production
Silicone 3D Printing allows low volume production of silicone parts without high tooling and molding costs. Basically, it is expensive to make a metal mold for silicone parts in injection molding, while it is almost impossible to produce low volume quantities because of the high cost. Silicone 3D Printing becomes the ideal manufacturing solutions for low volume production.
Part 4. 3D Printed Silicone Applications
Silicone 3D Printing can make custom silicone parts from prototypes to small batch production, which is idea for life science, automotive, consumer products industries. Here is a list of top applications of 3D printed silicone:
Life Science:
1. Surgical Instruments
2. Respirator Masks
3. Wearable Devices
4. Prosthetics
5. Anatomic Modeling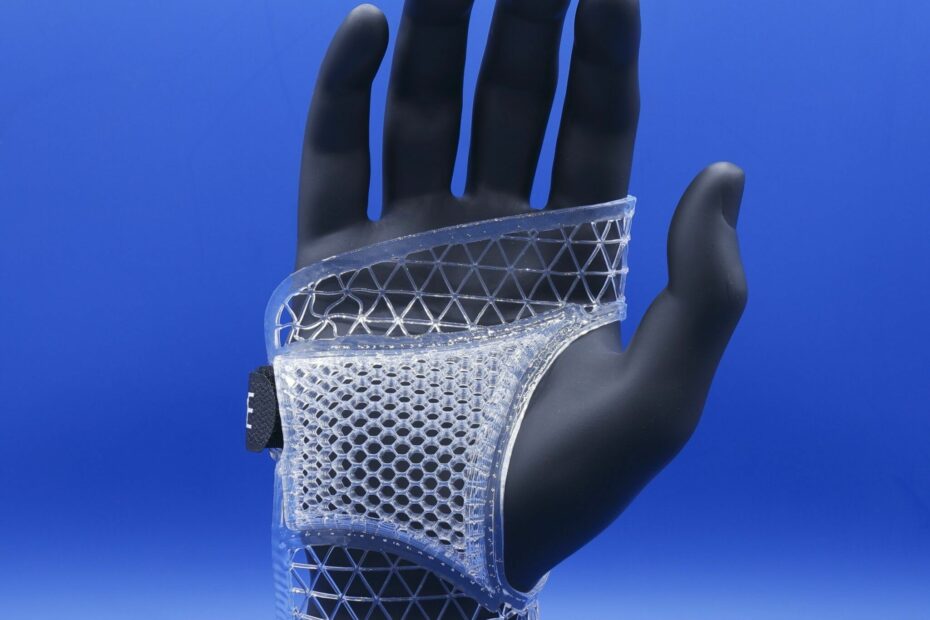 Image Source: 3D Printing Industry
Automotive:
1. Vibration Dampeners
2. Housing and Sensors
3. Wire Hardness Seals and Connectors
4. Gaskets
5. Bellows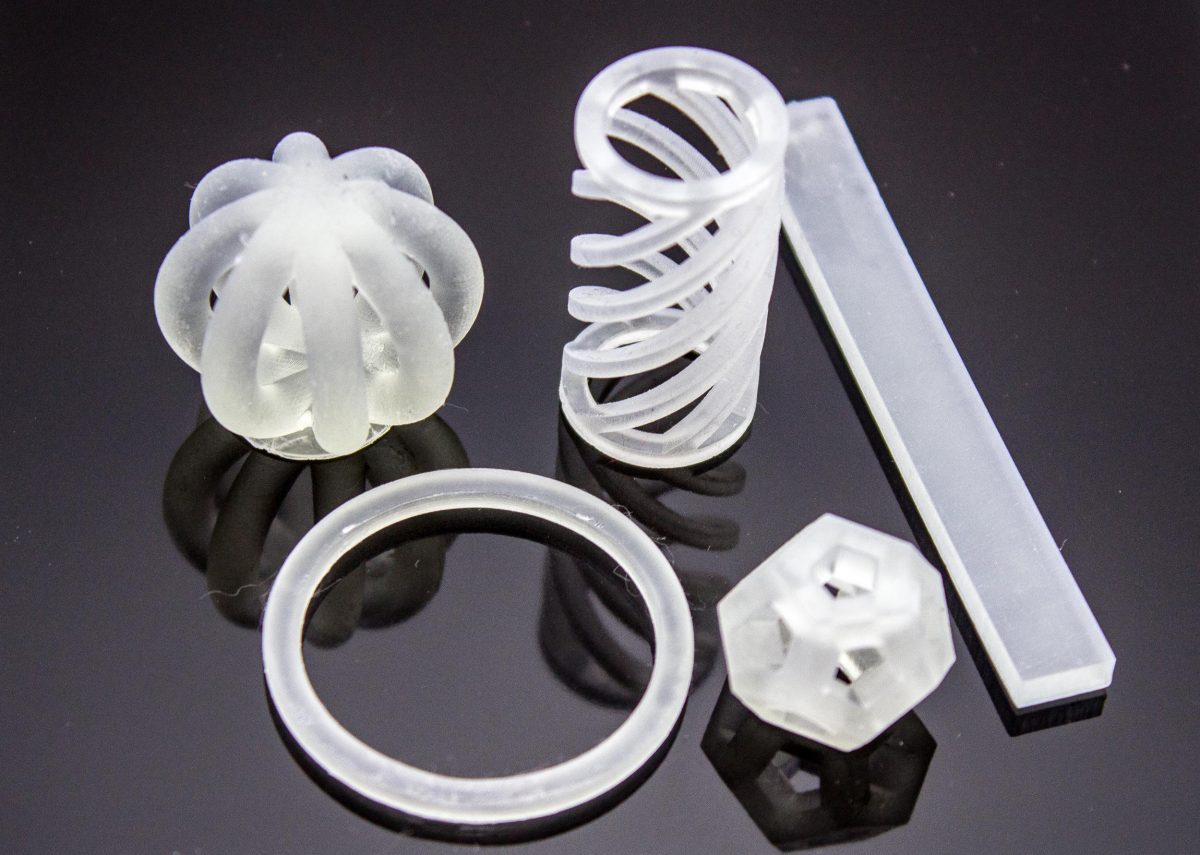 Image Source: AMFG
Consumer Products:
1. Hearing Aids
2. Food Grade Beverage
3. Home Appliances Insulation Parts (valves, gaskets, and diaphragms)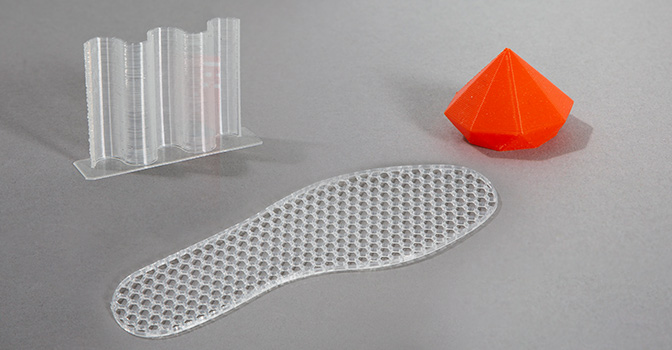 Image Source: 3DPRINT
Part 5. Silicone Molding
Although silicone 3D Printing is a direct method to produce silicone part, it is a relatively new technology without mature materials and machines. Still, there is an indirect way to make silicone parts, which is more accessible and affordable: 3D print models, then use vacuum casting for low volume production or use injection molding for mass production. At Wenext, we offer Online 3D Printing Services (SLA, SLS, MJF, SLM) to make prototypes for your silicone designs. Besides, we also provide vacuum casting and injection molding services. Overall, we provide a comprehensive manufacturing solution to make silicone products for you.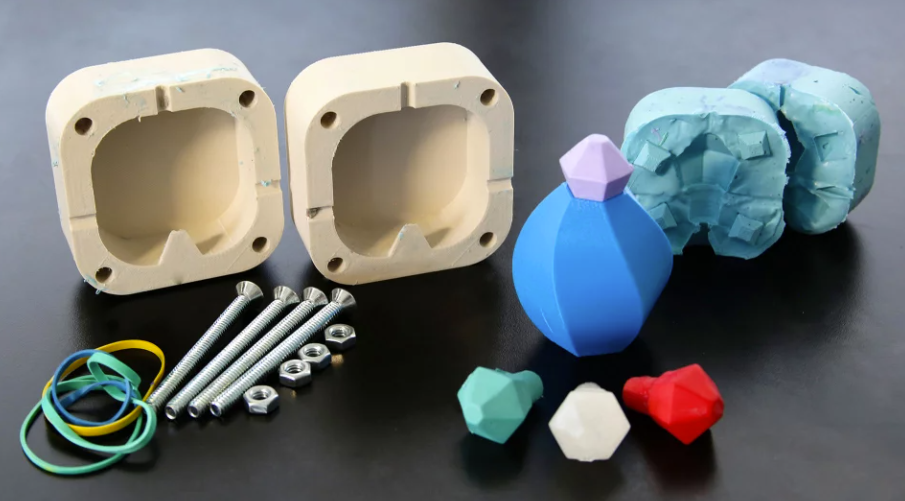 Image Source: MakerBot
Please feel free to try instant quoting on our website or email hello@wenext.com if you are interested.