Part 1. Metal 3D Printing is Changing Traditional Manufacturing
As an advanced technology in additive manufacturing, metal 3D printing plays a pivotal role in transforming and modernizing traditional manufacturing processes. SLM, also known as selective laser melting, stands out as a key technique, offering exceptional precision and robust capabilities for constructing complex structures. The versatility of SLM makes it suitable for an extensive array of current and future applications.
Part 2. Why Is It Able to Make Complex Metal Components?
Originating in 1995 at Fraunhofer ILT, SLM involves the direct fabrication of metal parts through the precise laser-based melting of metal powders. This technology allows for design freedom through the use of digital files, showcasing exceptional printing precision. The combination of stability and maturity fulfills the demand for high-precision, intricate shapes, small batch production, and even personalized manufacturing. Presently, SLM technology effectively addresses the production challenges of intricate metal structural components.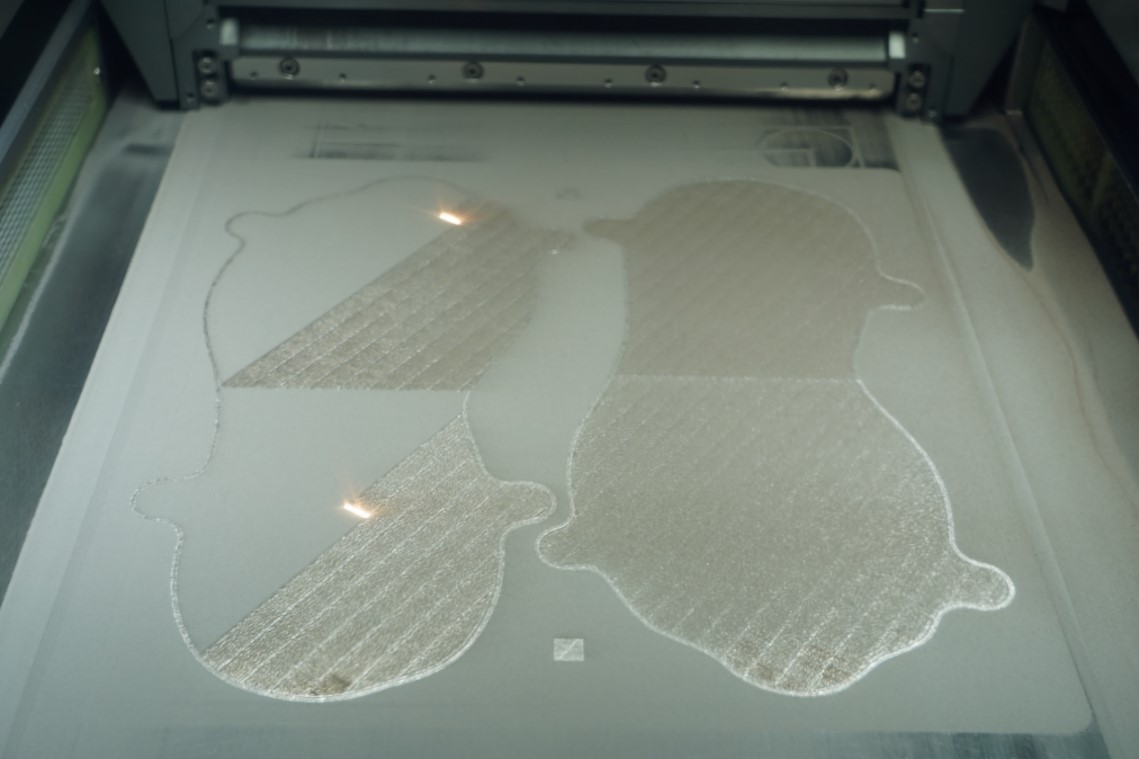 Part 3. How Does SLM Metal Printing Works?
SLM stands as a leading additive manufacturing method. In this process, a high-power laser beam selectively scans and melts metallic powders in two-dimensional cross-sections, following the slicing of a 3D model into layers. As a result, 3D components gradually manifest layer by layer through fused powder particles, as depicted below: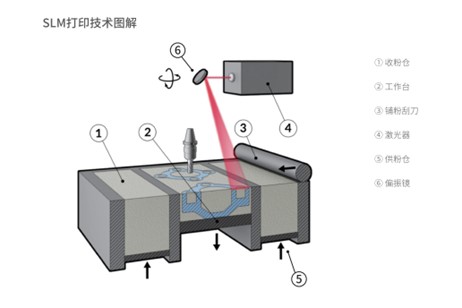 | | | |
| --- | --- | --- |
| ① New powder stock | ② Build platform | ③ Powder roller |
| ④ Laser | ⑤ Powder bed | ⑥ Polarizer |
Part 4. SLM Can Be Applied This Way!
SLM-printed metal components exhibit densities of up to 99%, offering superior tensile strength over castings. The level of precision demonstrated in dimensional accuracy results in substantial material savings. This versatility positions it favorably across a wide array of manufacturing scenarios.
1. Product Development | Model Validation
A cost-effective and time-efficient means of validating new products, negating the necessity for expensive and complex procedures like molding and machining.
1. Model validation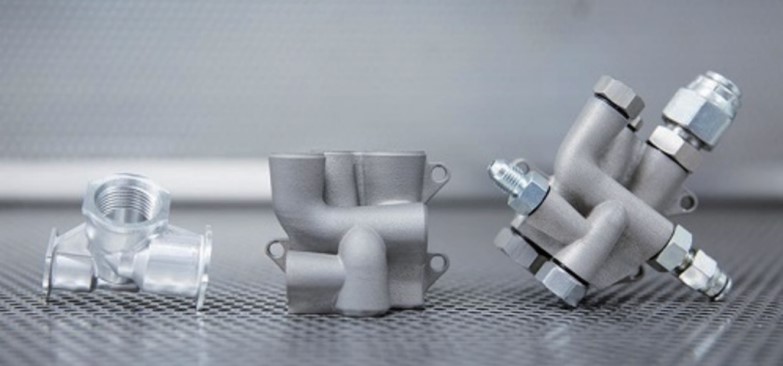 2. Product development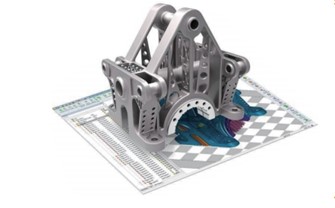 2. Enabling Lightweight Designs
Topology optimization design facilitates weight reduction without compromising on strength and performance integrity.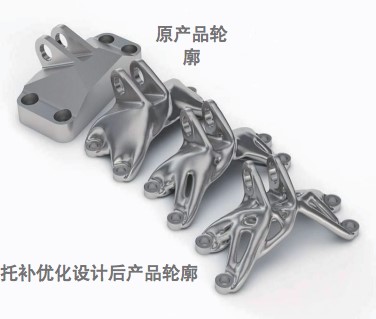 Original product profile
Product profile after topology optimization
3. Changing Lattice Structure | Strengthening Components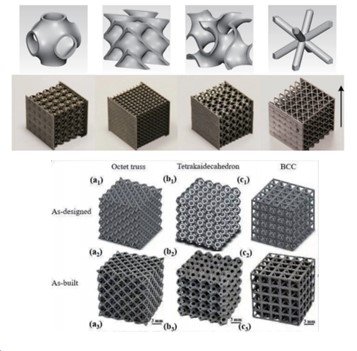 4. Enabling Modular Product Designs
Reduced the number of parts simplifies assembly, mitigates manufacturing risks, and reduces overall production costs, thereby enhancing efficiency.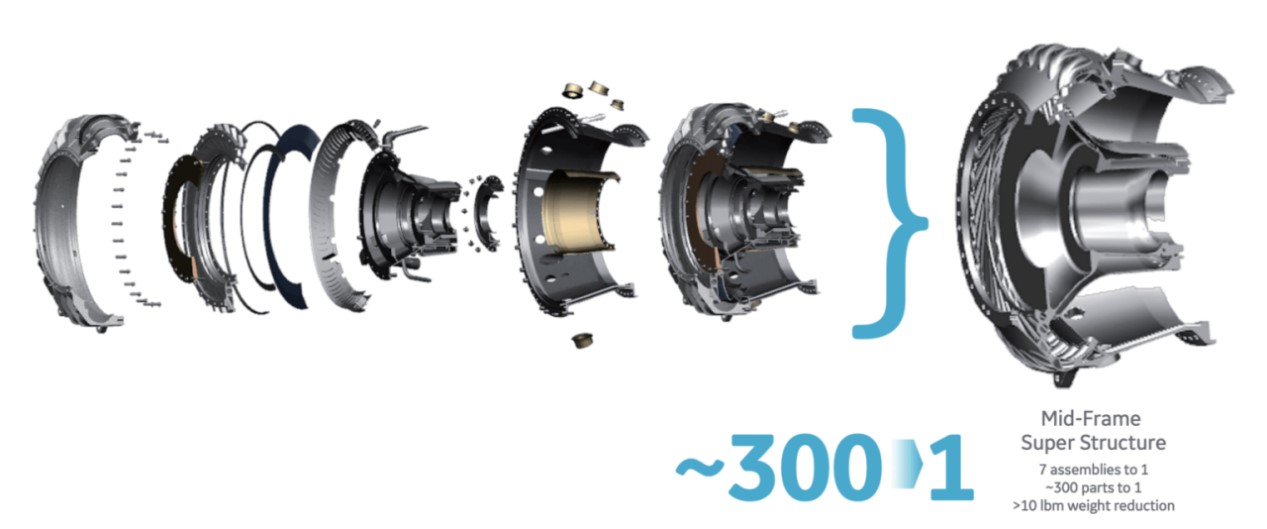 Reduced from 300 parts to 1 part . Concentrating manufacturing risks solely on 3D printing simplifies control, yielding a more streamlined and efficient process. Optimized designs that require fewer assembly steps not only ease manufacturing and maintenance processes but also significantly enhance overall performance, subsequently reducing production and operational costs.
5. Batch Customization
Employing 3D printing in batch customization curbs expenses linked with molding and machining. This transition trims both manufacturing costs and associated risks.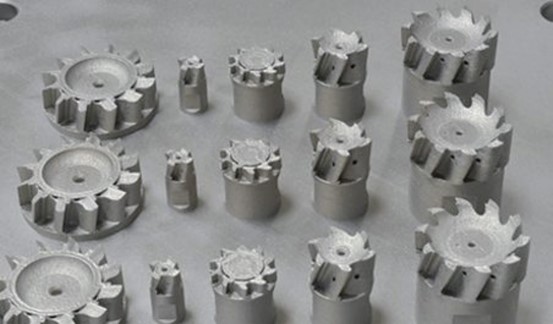 6. Designing Compact Parts for Limited Spaces
Designing multi-profile areas within confined spaces ensures desired functionality and performance, catering to limited volumes.
1. Compact radiator

2. High-efficiency hydraulic manifolds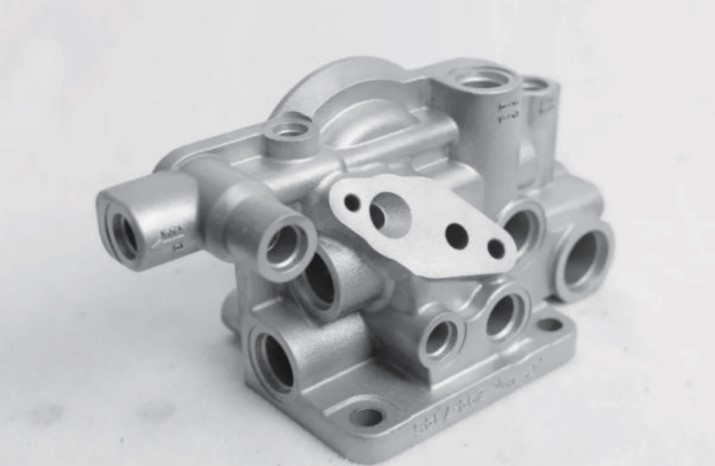 7. Shoe Mold Texture Designs
It addresses deficiencies in sole lugs while excelling in non-reflective textures.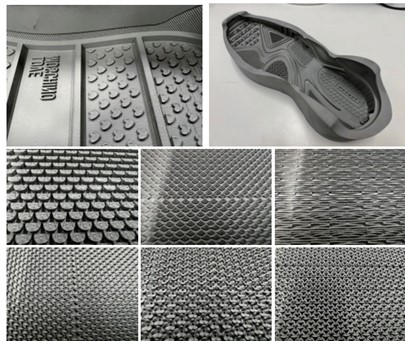 Case Study: 3D Printed Sole Lugs
8. Applying Conformal Waterway for Injection/Die-Casting mold
It integrates efficient temperature control through the implementation of conformal waterway, combining additive and subtractive material technologies for critical mold components.
1. Design of conformal waterway: 40% cycle reduction and thereby substantial cost savings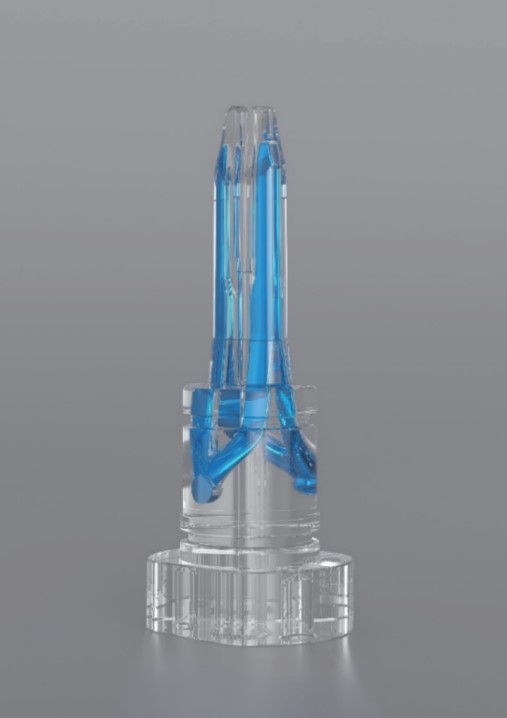 2. 3D printed components exhibit remarkable efficiency, minimizing coordination expenses, and offering avenues for cost optimization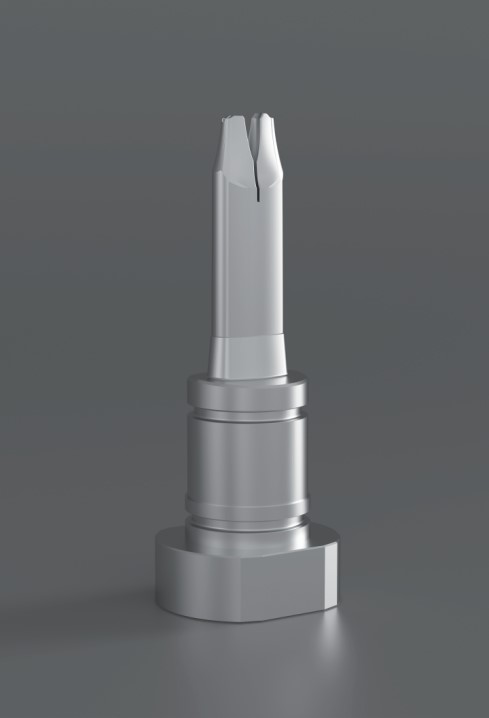 9. Achieving Optimal Product Designs
By harnessing computer algorithms and creativity, and transcending conventional constraints, this method efficiently iterates towards achieving optimal product contours.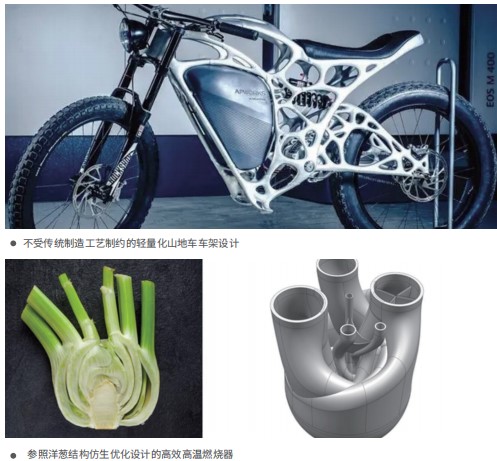 Lightweight mountain bike frame design independent from traditional manufacturing processes
Onion-inspired high-temperature burner optimization
10. A Creative Design Ally
Algorithm + machine based freeform design, integrated with cost-effective process solutions.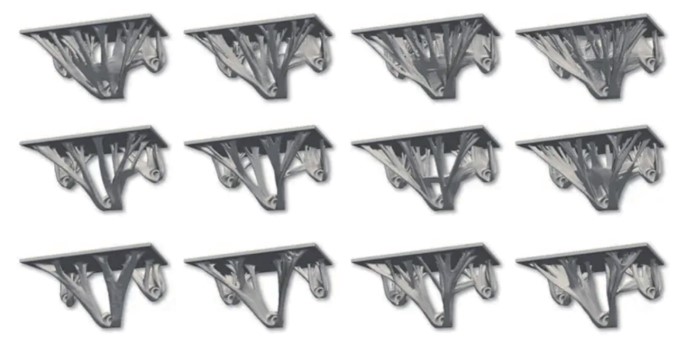 Automatic iterative design backed by adaptable 3D printing techniques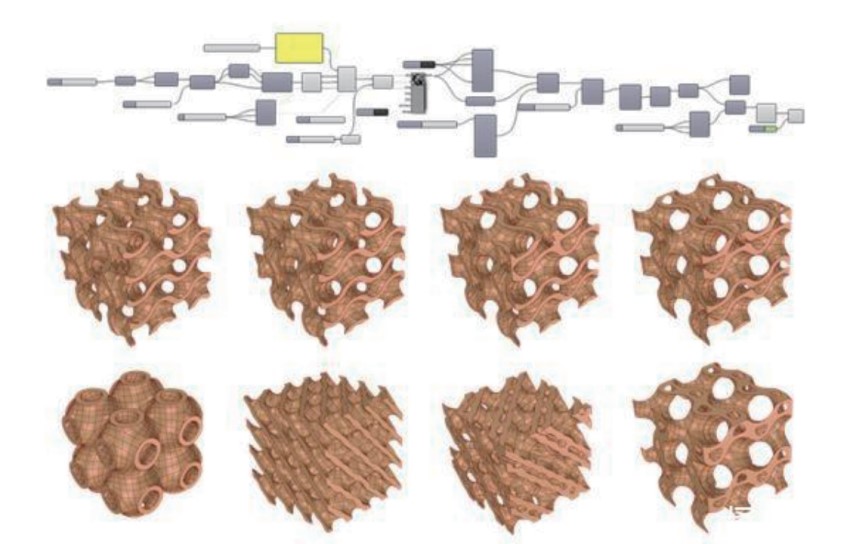 CAE analysis of the preferred solution, culminating in the attainment of the optimal design.
Part 5. What Limits SLM Metal Printing Technology?
Constraint 1 │ Forming Process Support Requirements
Thermal support is necessary to prevent heat accumulation during printing. This entails the need for supportive structures to facilitate heat conduction.
1. Part-forming support becomes crucial when the angle between the part and the printing platform is less than 45°.
Structural molding support becomes vital for components with structural variations or those requiring enhanced structural flexibility. Here, robust support is introduced to augment strength and resistance to stress-induced deformation.
Holes with a diameter exceeding 8mm mandate reinforcement above the hole for adequate support
Constraint 2 │ Limitations in Printing Material Variety
Influencing variables
1. The 3D printing molding process shares similarities with laser welding. The carbon element's content significantly influences the material's weldability. Maintaining carbon content within specific limits is imperative, as is controlled cooling during the molding process.
2. The quenched martensitic structure, comprising iron and carbon elements, undergoes considerable volume changes during phase transitions. Rapid cooling speeds can generate stress, and an excess of carbides can lead to stress concentration. Consequently, cracks are prone to form during the shaping process.
Outcomes
1. Typically, carbon content is kept below 0.05%. Material hardness and strength are enhanced through solid solution aging.
2. For 3D printed components requiring elevated wear resistance, incorporating coating techniques like chromium nitride and titanium nitride can enhance their frictional longevity.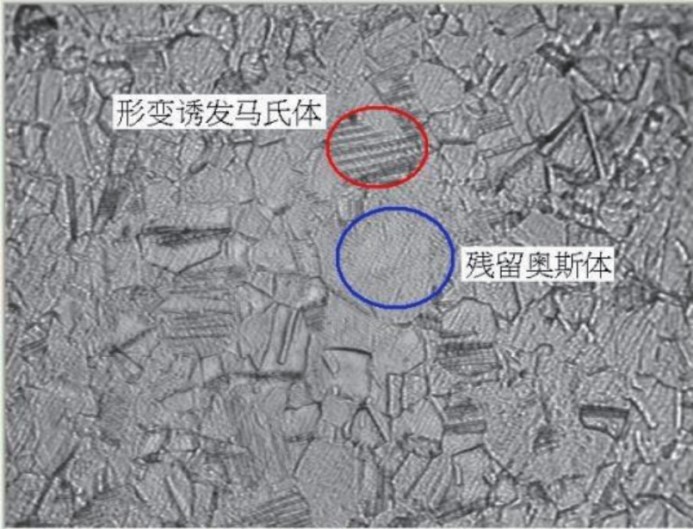 Deformation-induced martensite
Residual austenite
3. Plastic deformation arises when stress levels surpass the inherent strength of the component.
4. During phase transitions, metals undergo stress due to the shift from austenite to martensite and from liquid to solid phases.
Constraint 3 │ Printing Size Restrictions
1. With an increase in printing size, there is a proportional rise in equipment costs, with the economically viable print size capping at 350x350x400mm.
2. Larger printing sizes find their niche in the production of high value-added components, especially in sectors such as aerospace manufacturing.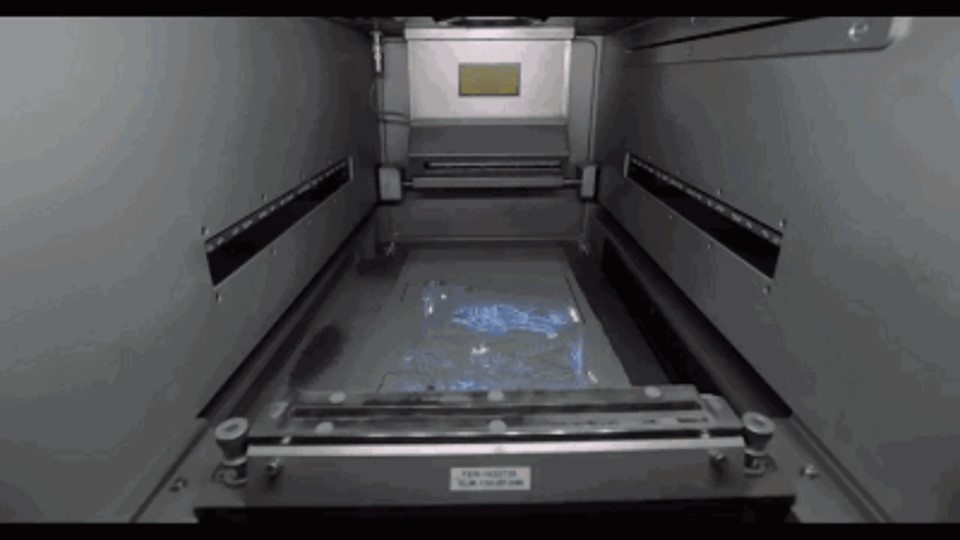 Part 6. Material Properties for SLM Metal Printing
Materials utilized in metal 3D printing comprise powders and filaments, spanning a range of options including aluminum alloys, stainless steel, tool steel, die steel, titanium alloys, and various aluminum alloys. Aligning material properties and parameters with specific applications necessitates the evaluation of factors such as the intended use, functionality, stability, durability, visual appeal, and cost-effectiveness.
| | |
| --- | --- |
| Typical Materials | Material properties |
| General purpose aluminum alloy - AlSi10Mg | This alloy is notable for its low density and impressive strength-to-weight ratio. It also offers high-temperature resistance and excellent corrosion resistance. Its exceptional electrical and thermal conductivity, along with its corrosion resistance, make it suitable for a wide range of applications. |
| Stainless steel- 316L | Recognized for its appealing gloss, this stainless steel exhibits exceptional post-surface treatment results. Its corrosion resistance and hardening properties make it a fitting choice for crafting components that require resistance to acids and corrosion. |
| High strength stainless steel - 17-4PH | A martensitic precipitation-hardening stainless steel, it displays improved mechanical properties after undergoing heat treatment. It achieves an impressive pressure resistance strength of 1100-1300 MPa (160-190 ksi). This steel is well-suited for producing shafts and turbine parts. |
| High-strength aluminum alloy - Al-Mg-Sc-Zr | Distinguished by enhanced forming quality, remarkable tensile properties, and reduced anisotropy, this alloy boasts a yield strength, tensile strength, and elongation of approximately ~525 MPa (heat-treated), ~560 MPa (heat-treated), and ~13% (heat-treated), respectively. |
| Titanium Alloy - TC4 | Renowned for its exceptional performance and remarkable corrosion resistance, this alloy has become a fundamental structural material in various industrial applications. |
| Tool Steel - CX | Characterized by high and ultra-high strength, this steel exhibits a tensile strength exceeding 1600 MPa. Notably, it offers a combination of excellent toughness and remarkable temper resistance. |
Part 7. SLM Metal Printing Specifications
Wenext specializes in customized SLM metal printing solutions, empowering customers with the flexibility to fine-tune parameters and choose from a variety of materials to achieve optimal printing outcomes.
Metal samples: AlSi10Mg, 316L
Metal parts: AlSi10Mg, 316L, 17-4PH, 1.2709, AlMgScZr (high strength aluminium), TC4
Tool parts: CX (mainly for injection molds), 1.2709 (mainly die-casting molds)
Max. printing size: 350×350×400mm
CX: S136 (To be specified by Wenext to ensure mold jointing quality),1.2344 (corrosion resistant), CORRAX (highly corrosion resistant), PAT868S
1.2709: (high strength and high temperature applications) 1.2344, 1.2709
Printed mold with polished finish: SPI-A2 (Max.)
Mold hardness: up to HRC 44-50
Printing tolerances: ±200 μm at min. layer thickness of 50um
Lead time: 6 days
At Wenext, our expertise extends beyond product printing to advising on manufacturing methods, materials, and part designs. Simply upload model drawings for instant quotes on Wenext. If you're intrigued by the prospect of utilizing SLM metal printing for specialized applications, stay tuned for our coming installment dedicated to the subject.