FIFA World Cup, the best soccer carnival of the year, is coming around the corner! World Cup trophy would be one of the wildest dreams of soccer fans from all over the world. How about making your own World Cup trophy replica through 3D Printing? Check out this article and find the best STL files for your FIFA World Cup 2022!
Part 1. FIFA World Cup 2022 and 3D Printing
FIFA World Cup 2022, one of the world's most popular sports carnivals, will be taken place in Qatar on November 20! It's so exciting that we can watch those marvelous World Cup games after four years. It could be one of the biggest sports events in the post-pandemic era. In such a big event, supporting your team with mascots, decorations, and trophy replicas is the indispensable part!
In recent years, 3D Printing is being increasingly used in many applications and industries, making it a remarkable technology. Making World Cup decorations with 3D Printing is new and fun choice for you! And in the following part, we will introduce the best STL files for making World Cup trophy replica and even stadium!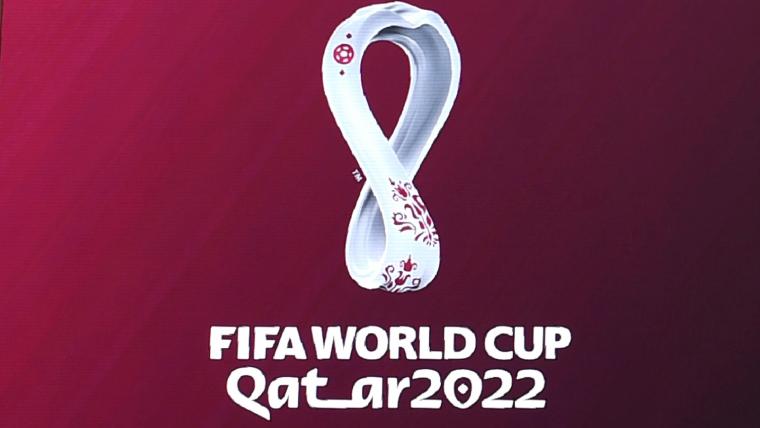 Image Source: FIFA
Part 2. 3D Print FIFA World Cup Replica
Before selecting the best 3D models of your World Cup replica, it's primarily to choose the suitable 3D printer and 3D printing material. Let's take a closer look:
1. FDM 3D Printing
FDM 3D Printing is the top choice to print your trophy as it's affordable and easy to use. There are various desktop FDM 3D printers, and we've listed the best FDM 3D printers for you! Speaking of printing material for the trophy, we recommend ABS or PLA filaments, for more choices, plead click here.
2. SLA 3D Printing
SLA can be one option to print the replica if you want a smooth surface finish. Besides, printing a hollow trophy to reduce weight with SLA is available. Weight matters especially when you bring your own decorations to the stadium. But use SLA will cost higher budget as the price of most of the printers are a little higher than desktop FDM printers and the materials of SLA also have higher price. Moreover, you'll need dedicated post-processing for your 3D printed trophy. And, you can print flexible trophy with SLA, and we recommend these top flexible resins to you!
3. SLS 3D Printing
If you are looking for more durable and rugged for your customized World Cup decorations, SLS is a great choice! SLS is capable of making high quality items with high strength and good toughness, while the items are not easy to deform or break. Compared with MJF, SLS is more affordable and cost-effective. Besides, choosing some SLS materials like glass-filled powders, so that your trophy is fearless of moisture.
These are the top three 3D Printing technologies we recommended for you to print your own World Cup trophy replica or some decent decorations. Whatever to choose is based on your needs and budgets. Happy making!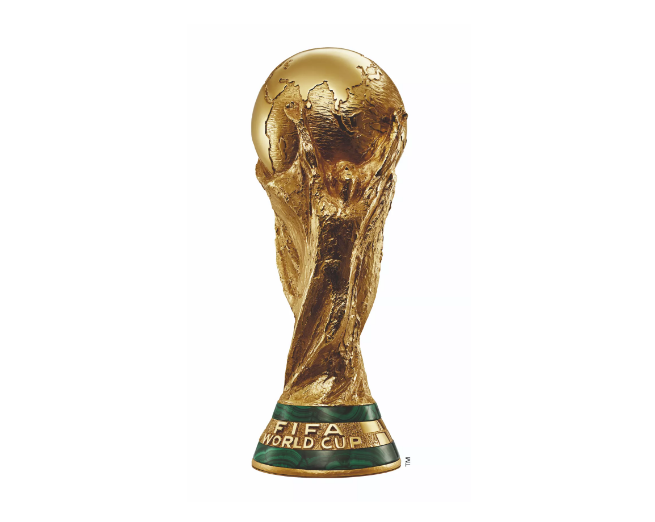 Image Source: FIFA
Part 3.
Select the Best FIFA World Cup Trophy STL Files to Print
1. FIFA World Cup Trophy (Solid Version)
The first FIFA World Cup trophy STL file that we recommend is made by 3DPrintNovesia. We can see that there are 47 makes and many nice comments of his design, like "one of the best and finest trophies." The trophy has two parts, which no support needed of the bottom part while the top part needs support. You can print the trophy easily without the help of rafts. Recommended infill is 10-15% and the resolution is 0.2mm. To snap two parts of the trophy successfully, you need to print three connectors. Aligning holes and connector pins are already designed on the parts.
Designer: 3DPrintNovesia
Source: Thingiverse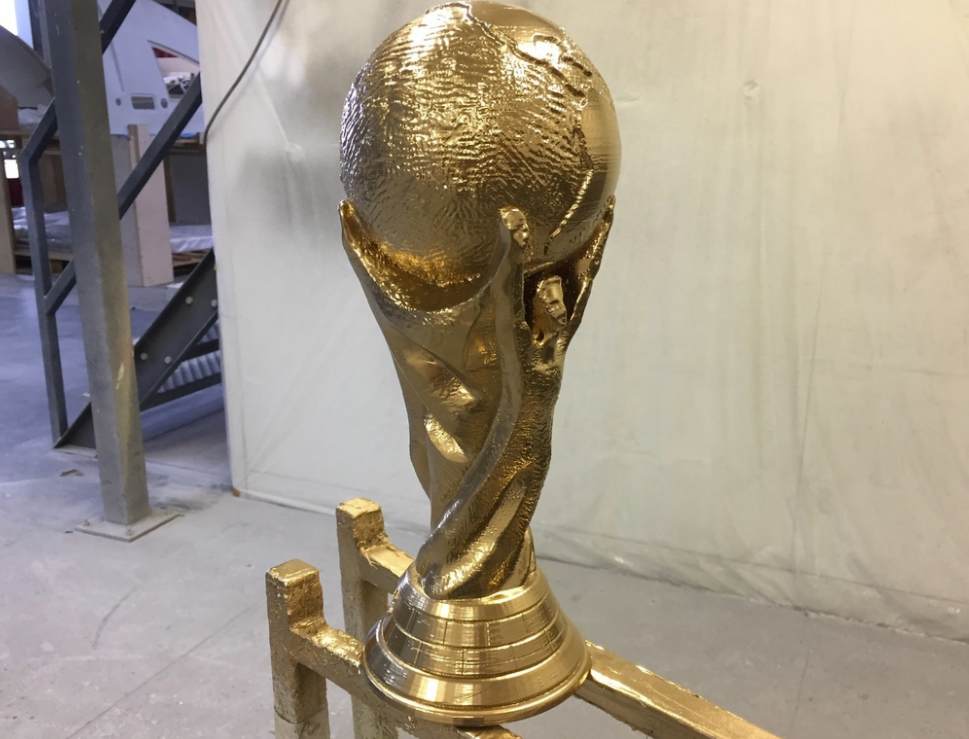 Image Source: 3DPrintNovesia
2. World Cup Replica Solid
Here is the remix design which is adjusted dedicatedly for FDM 3D printer. The original design is made by Bekarion, but it is suitable for other manufacturing method, not made for FDM printer. This file is optimized for FDM that is easy to print and operate. Enjoy making! Check the following link and download free STL files for your World Cup trophy.
Designer: Ryan Huang
Source: Thingiverse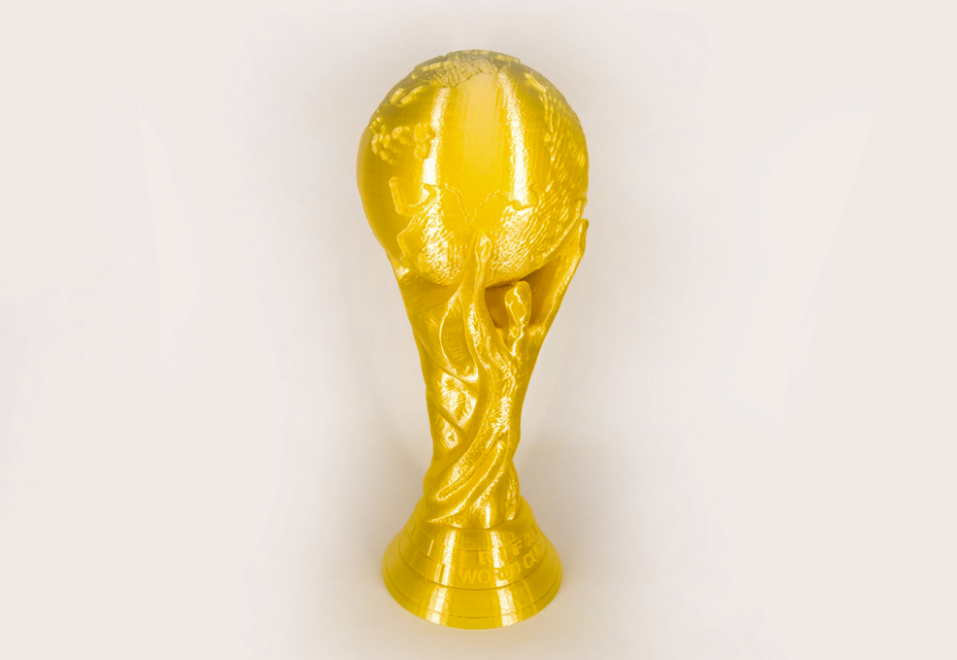 Image Source: Ryan Huang
3. Soccer World Cup
If you also own a Zortrax M200 like our maker prodimensional here, you're very close to succeed! Try and follow his setting, or even make them greater. The material used is Z-Ultra which is the same product made by Zortrax. Material and printer are highly compatible, ensuring high successful printing rate. The layer thickness is 0.19mm, no support needed. Recommended infill is light. Check out the design and see 23 successful makes from others.
Maker: prodimensional
Source: Thingiverse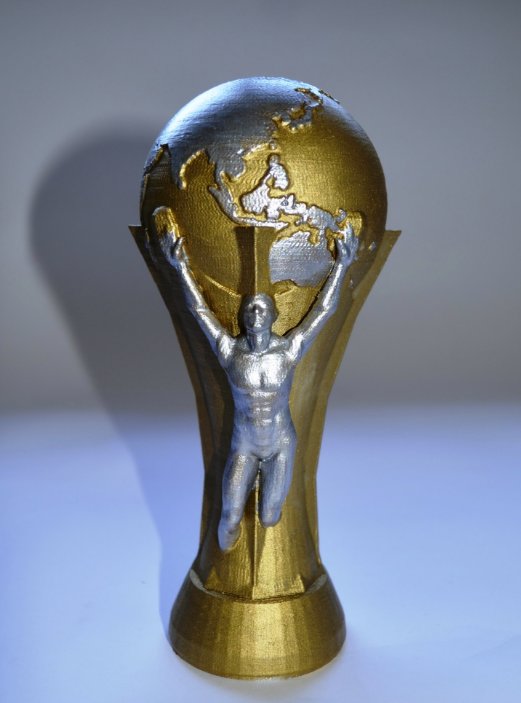 Image Source: prodimensional
4. Qatar 2022 FIFA World Cup Extruded Logo
Alright! After checking a few World Cup trophy designs, are you suffering "visual fatigue"? So, here we go – the Qatar 2022 FIFA World Cup logo! It is a flat printing using multiple color layers that you can choose filament color as you want! To make is quite close to the original one, the maker is using grey filament for the first two layers, white for the subsequent three layers, and purple for the last two layers.
Designer: MATIASDENKER
Source: Cults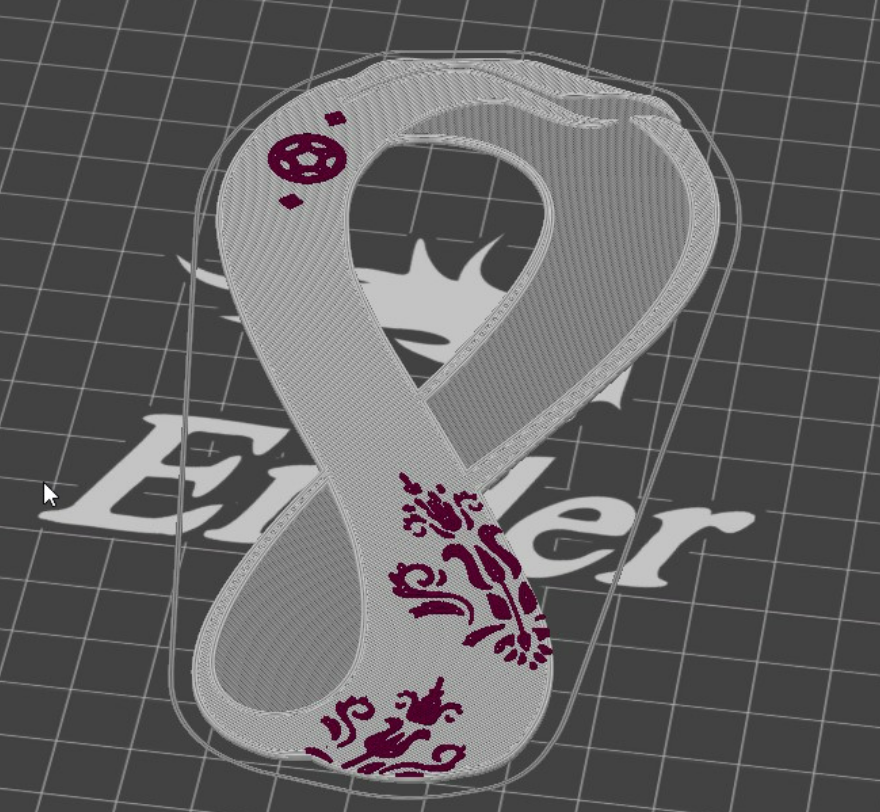 Image Source: MATIASDENKER
5. FIFA World Cup Pot
Getting tired of usual design of the trophy, how about printing your trophy and make it the most special flower pot in your garden or home decorations? Designer HF_DESING shared his FIFA World Cup flower pot with us! It is a 20cm high flower pot with a water exit at the bottom. The recommended material is PLA filament, and here are the best PLA filaments waiting for you to select!
Designer: HF_DESING
Source: Cults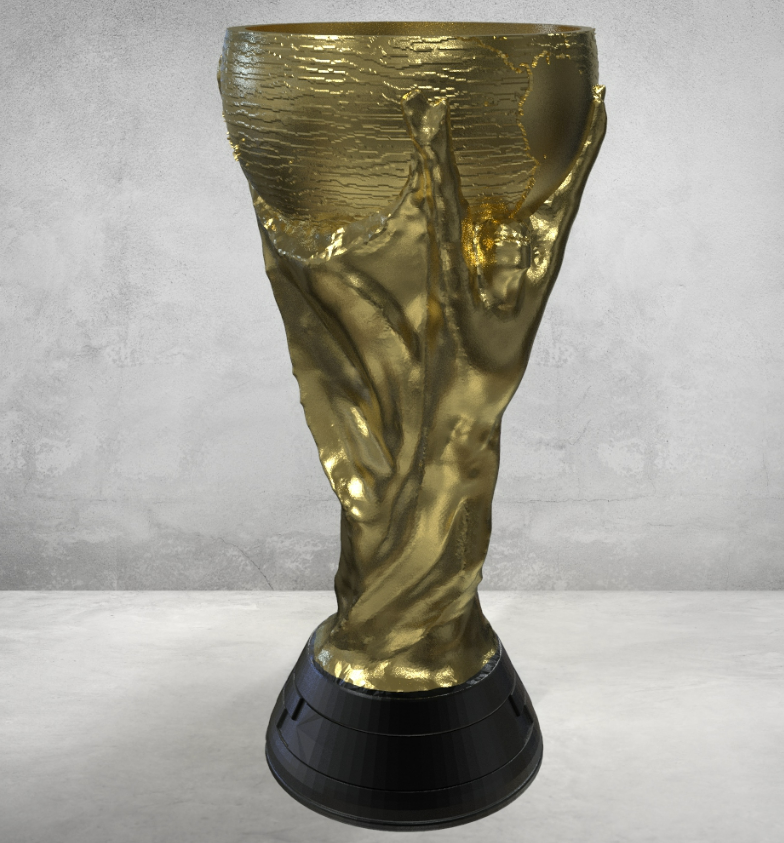 Image Source: HF_DESING
6. FIFA World Cup Mate
Another special choice to customize your own World Cup trophy! The designer adapted a cavity to place a polymer matte. It could be the decent home decorations as you can DIY on it; or it could be the candy jar while you're watching FIFA World Cup Qatar games! However, this special design is not for free, and it will cost you $5.03.
Designer: MARIAN98
Source: Cults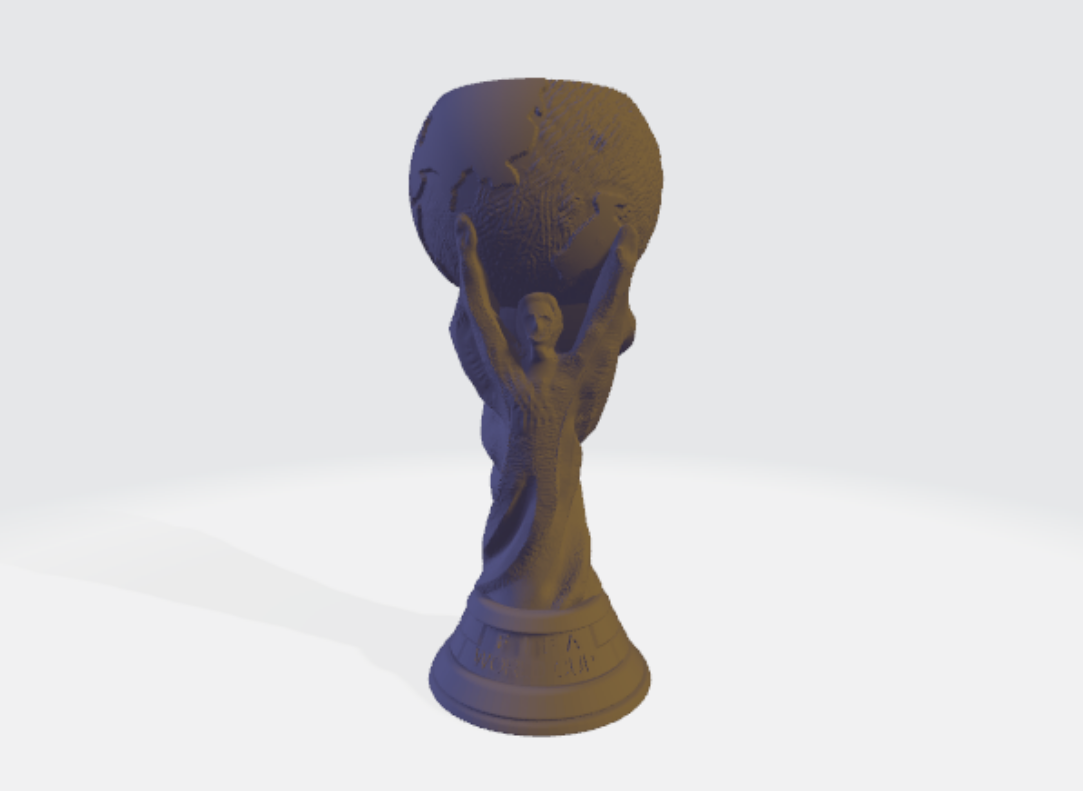 Image Source: MARIAN98
7. FIFA World Cup Solid Shampoo and Mold for Soap Pump
How interesting! This is the 3D printed FIFA World Cup mold for soap pump. And this time you don't have to worry about the size of the file, it is designed to use as little material as possible. Printing size can be scaled to your preference once you download the file through your slicing software. The printing material is the versatile PLA filament with infill about 20%. The printer nozzle is 0.4mm, while the layer thickness is 0.22mm. The design will charge you $3.
Designer: __BUBBLES
Source: Cults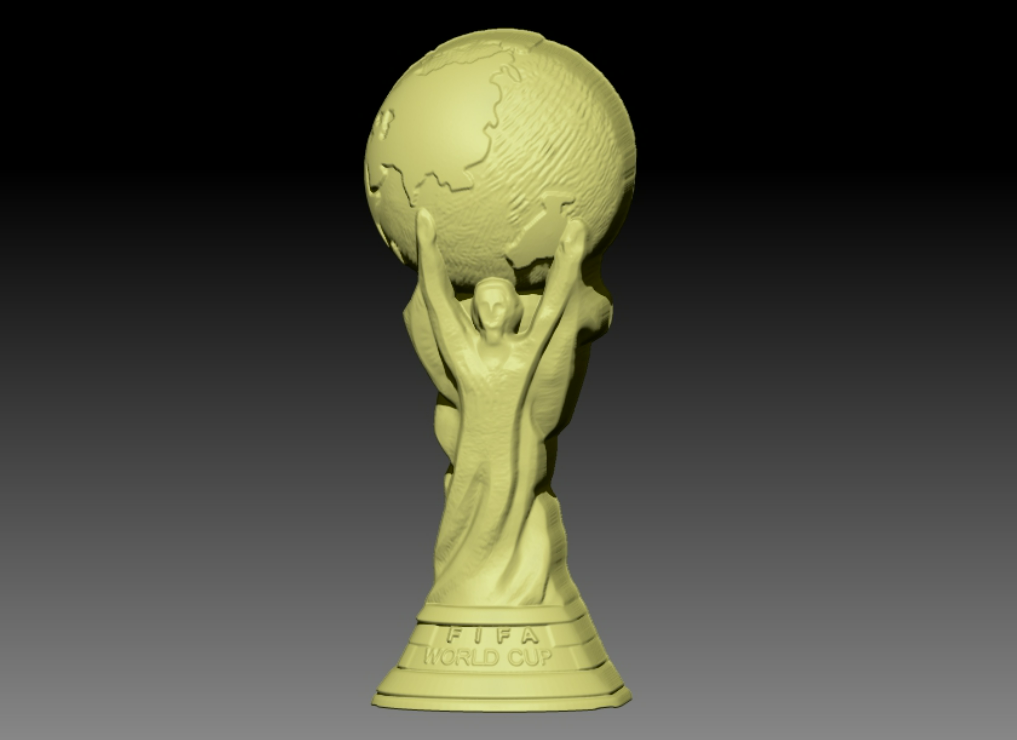 Image Source: __BUBBLES
8. FIFA World Cup Trophy 3D Print Model
Are you looking for an aesthetic World Cup trophy? This design is a hollowed-out one. You can see the complex lines and textures on the trophy, which is distinguished from most of the trophy that we've seen! We believe it can be an elegant partner of interior design. It's quite a good deal and only cost you $3.
Designer: zalesov-diz
Source: CGTrader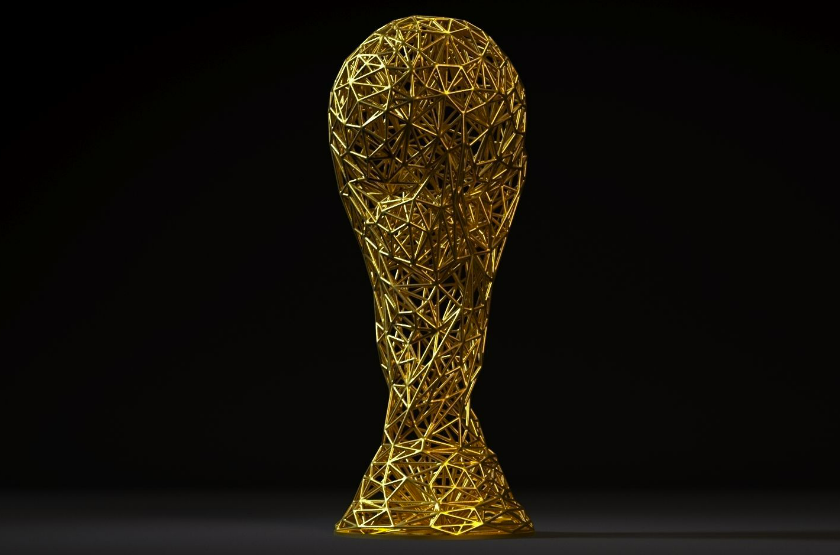 Image Source: zalesov-diz
9. Khalifa International Stadium FIFA World Cup 2022 Qatar 3D Model
There must be serval different stadiums for the games, and architecture fans would be thrill if they got the 3D models with great quality! The third-place game will be taken place at Khalifa International Stadium, making it a "hot place". The 3D model is designed with details and high resolution. However, there's not STL files for the design, you would need to transfer the file. Besides, this model is a little pricy, but it is offering 30% off discount, click the following link and check it out!
Designer: asmastro
Source: CGTrader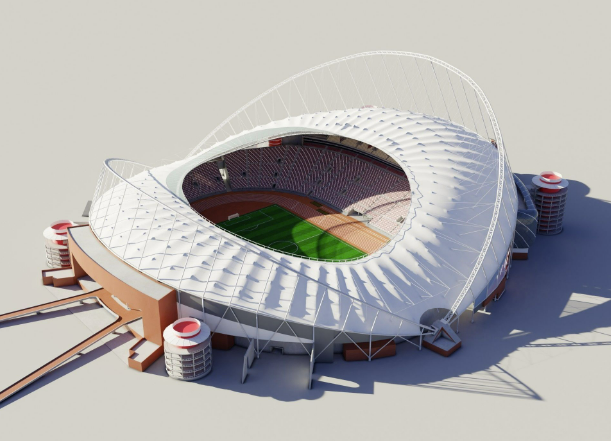 Image Source: asmastro
10. Trophy World Cup FIFA
1:1 of the real World Cup trophy, the 3D printed replica has the height of 36.4cm! If you are looking for the close effect as the real cup, given a layer of putty or filler is exactly what you need. Although you can see the layer texture on the designer's final work (because of printer capability), it is a good design with free STL files source. So, make sure there is no obstruction of your printer before starting your project! Enjoy making!
Designer: LeoAvilaGG
Source: Thingiverse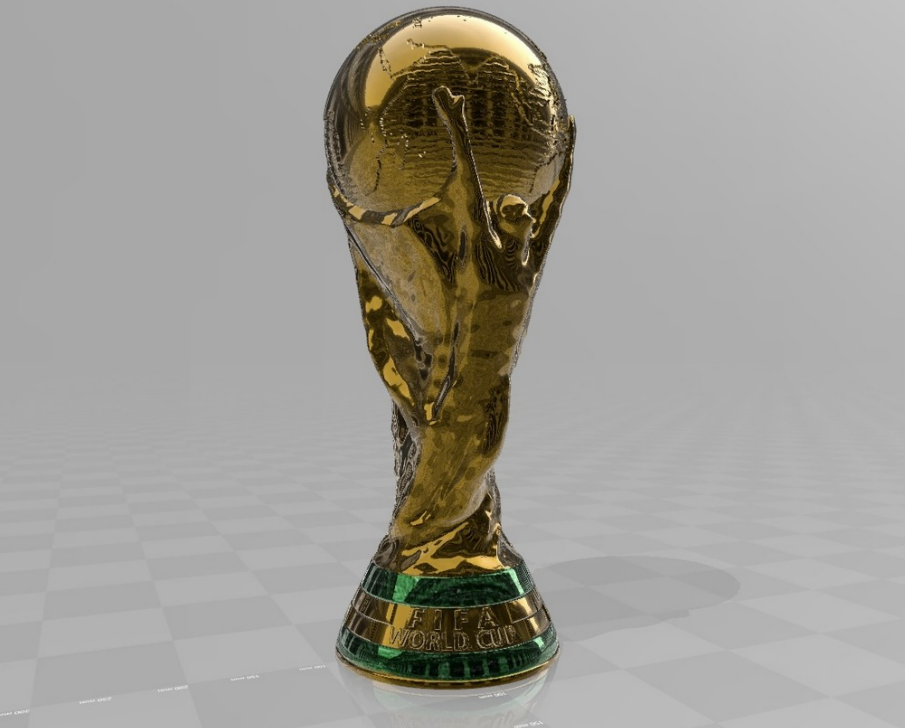 Image Source: LeoAvilaGG
Part 4.
Online 3D Printing Services for FIFA World Cup Replica
What you can do if you don't have any 3D printers that we've mentioned above? Here are online 3D Printing services from Wenext! We can print everything you design, by offering SLA, SLS, MJF, and SLM 3D Printing services. High quality and high precision are what we manufacture. With fast lead time, which is soonest at 48 hours, your World Cup trophy will de deliver on time! Order now on our instant quoting engine or email hello@wenext.com. Besides, more functions are coming soon on our website, sign up and stay tuned!