Print-in-place articulated dragons have gained a lot of popularity recently! A few YouTube and TikTok bloggers make those incredible articulated dragons 3D prints get attentions. And we can find that there are thousands of dragon 3D designs on online file repositories, such as Cults, Thingiverse, MyMiniFactory, Printables, STL Finder, etc. Some are free, some are not but only with small price tags. In this article, we'll take a look at the best design of articulated dragons, mention the designer and source so that you can find the right one, where you can find those makes and creations by others as well. Besides, we'll also offer some tips and settings to ensure your project is successfully printed.
Part 1. Why dragons are a popular choice for 3D Printing?
It's no doubt that there are many mythical stories about the dragon, no matter in books or movies. We can see that dragons are one of the most loved mythical and magnificent creatures. Many ways to present dragon as drawing, toys, assemblies, so it's not surprise that dragons became a popular choice for 3D Printing because 3D Printing connects to drawing, models, and toys significantly. Besides, printing articulated dragons by a 3D printer breaks the stereotype of STL file designs and the conventional thoughts of making such a flexi model. Like we always said, 3D Printing allows wild imaginations and seem-like unrealistic thoughts. Printing a mystic creature would have so much fun and curiosity is satisfied. What's more, the cost of print-in-place articulated dragons by conventional injection molding or other methods can be high and the volume wouldn't be low. With 3D Printing and desktop 3D printer (especially FDM 3D printers), you can make your own unique stylish dragon cheaply and efficiently. To help you print a fantastic articulated dragon, we list the best models for you.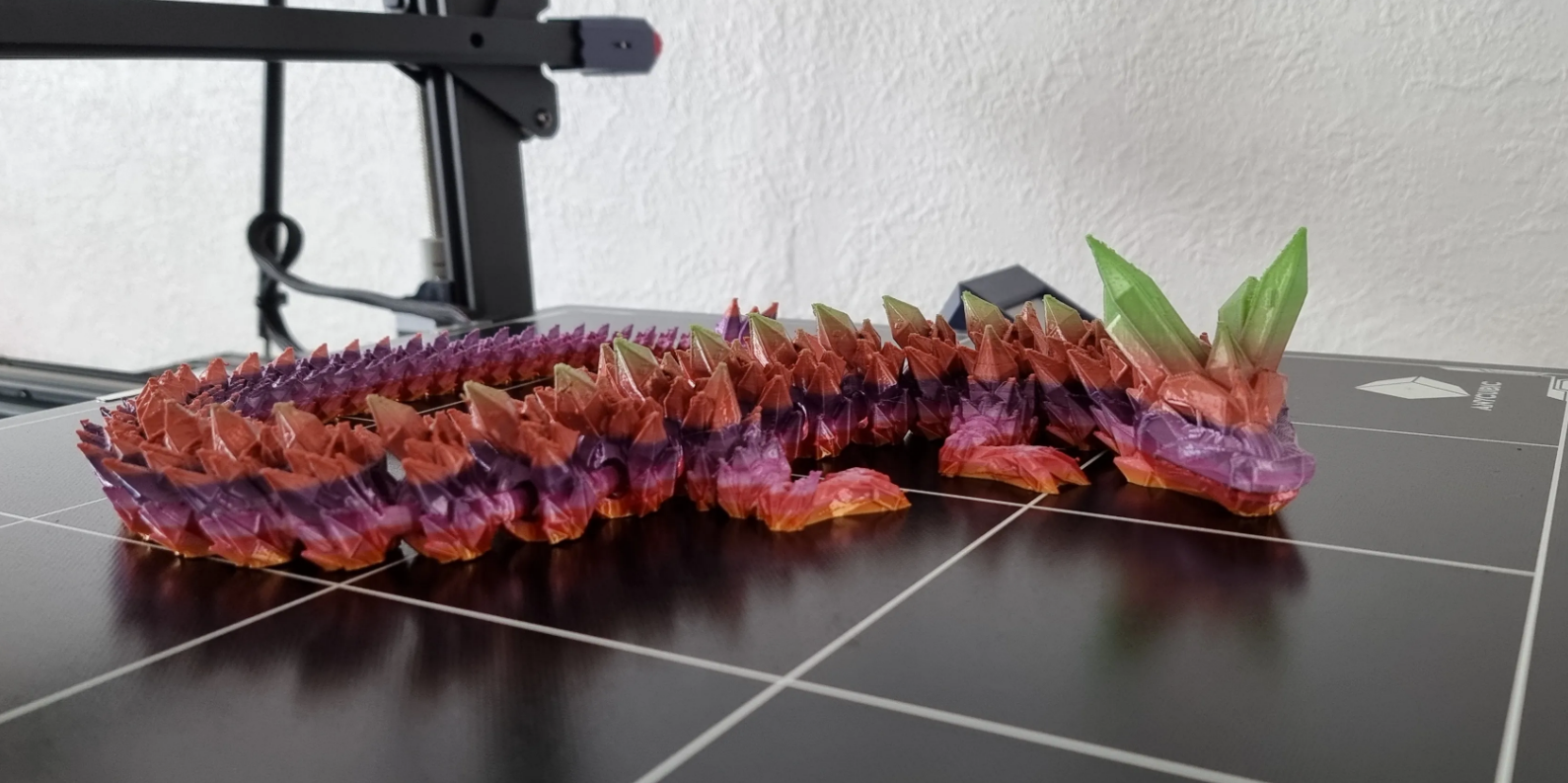 Image Source: PRODJ via Cults
Part 2. Articulated Dragon 3D Prints
1. Flexi Print-in-place Imperial Dragon
The first print-in-place articulated dragons with no support needed is made by FlexiFactory. The provided details include 4 STL's, you can use the one that best fits your print bed. The designer went through several iterations to ensure that the final part is strong and rugged, and the design is easy to print successfully without supports. The head of the dragon is able to sit up because of interlocking spikes on his back. So, you'll need to not to push and press the spikes too hard especially when the part is printed with more brittle material like silk PLA. It will cost you only $3.95 to buy this design.
Designer: FlexiFactory
Source: Cults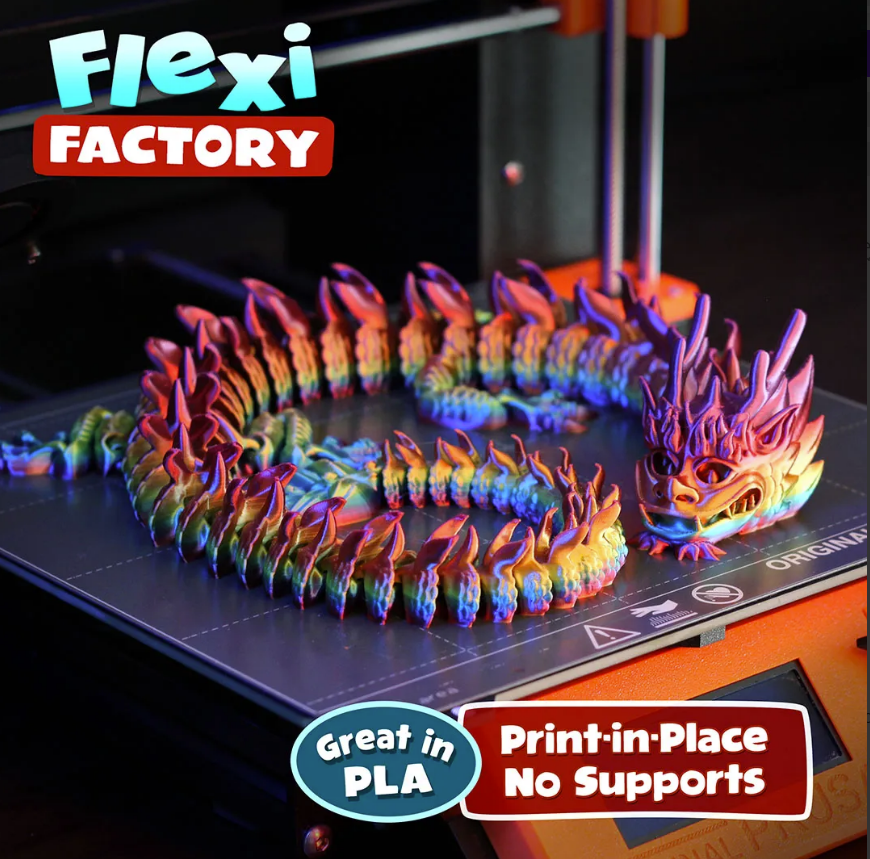 Image Source: FlexiFactory
2. Majestic Sea Dragon - Fully Articulated
How about exploring the sea life with the majestic sea dragon! The design can make the final part look more natural as it is created with some girth in the middle and each part of the dragon is individually detailed. Basically, the model is print in place, but additionally, there is a separate mandible. Don't worry, the dragon jaw can simply snap in place but please take it carefully and not press it too hard when installing. Several STL files are provided so that you can choose the most suitable one according to your printer. The main file measures 210mm x 220mm, and it can print a 26" majestic sea dragon without supports! And the file price is only $3.5.
Designer: Divine3DDesign
Source: Cults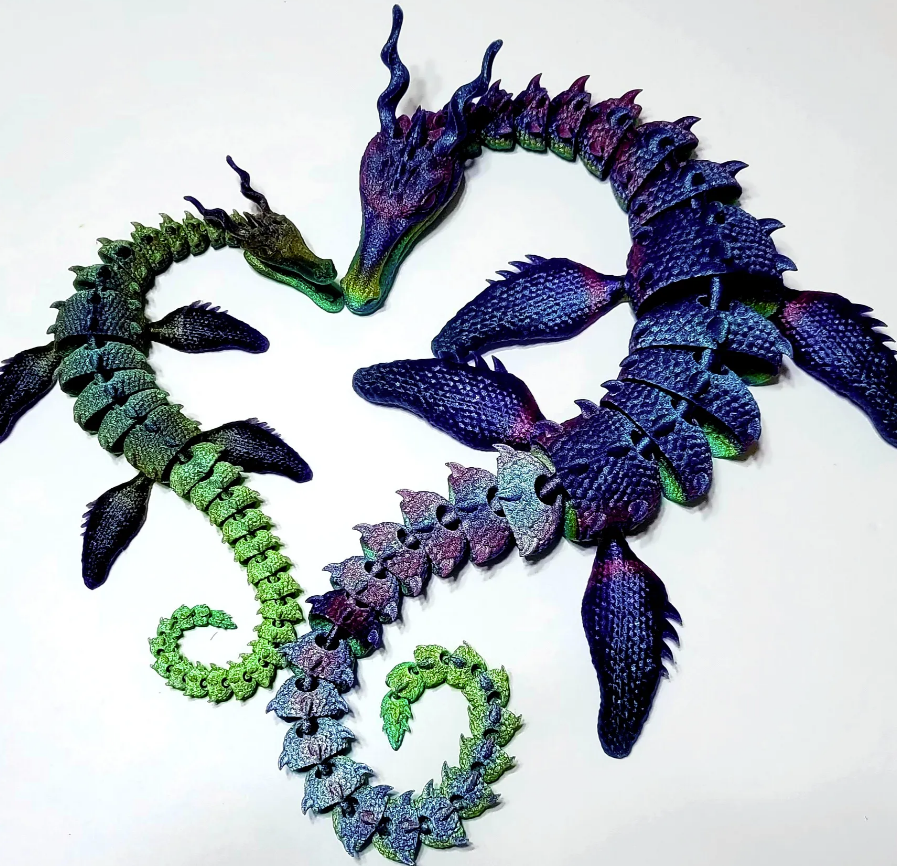 Image Source: Divine3DDesign
3. Print-in-place Crystal Dragon
Print in place crystal dragon with no supports! The recommended design here contains original crystal dragon curled, flat feet model, straight flat feet model, and also files for resin printing. You can choose the easiest methods to print this crystal articulated dragon. Pay attention to adhesion always. The price tag is $4 for this design, but please make sure you don't resell, share or give away the files as they are under copyright.
Designer: Cinderwing3D
Source: Cults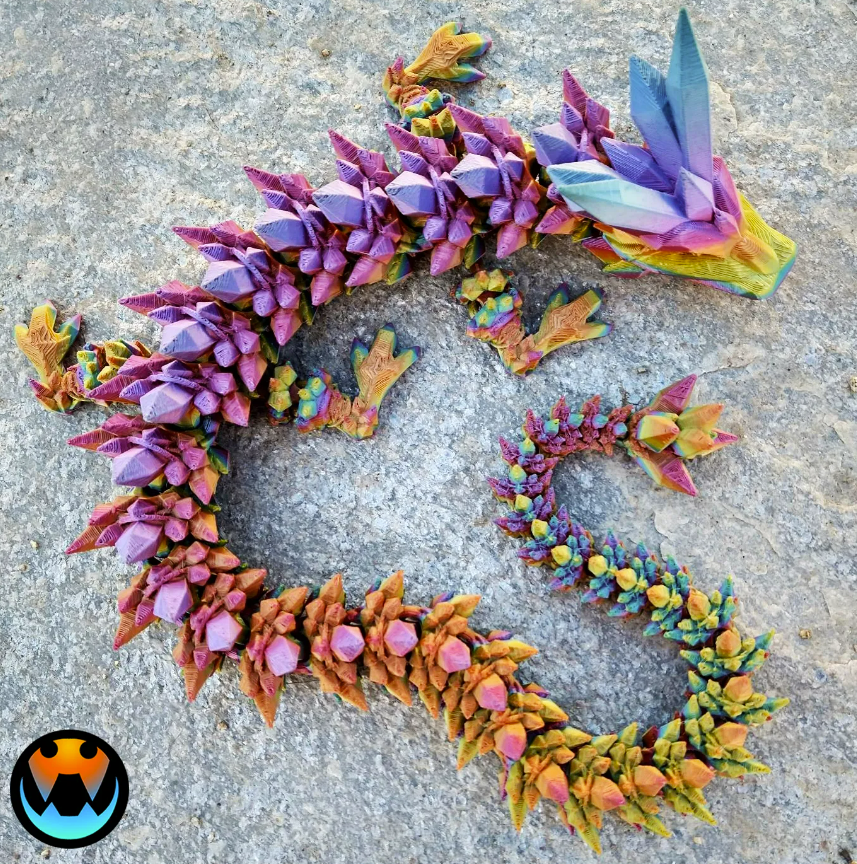 Image Source: Cinderwing3D
4. Dragon Family Collection (4 Dragons)
If you want a set of dragons with different shapes and colors, here is a dragon family collection for you. This set consists of 4 articulated dragons, which prints without supports and the movement is fluid and flexi! PLA filament works great with this design and a good first layer will be the foundation of a successful print. If you need to print the dragons into small one, please make sure they are not too small and you have a good print bed adhesion. The price is only $13.25 for 4 articulated dragons, check it out in the following source link.
Designer: ToonzFactory
Source: Cults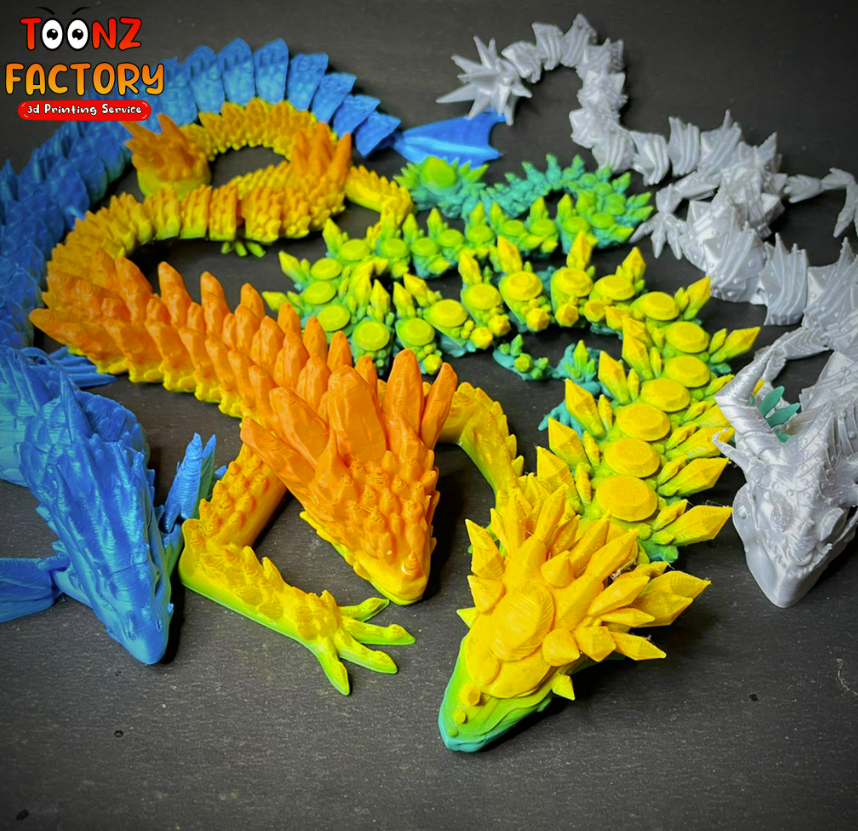 Image Source: ToonzFactory
5. Lung Oriental Articulated Dragon
7Fish has made a lot of beautiful dragon 3D prints, and most of them are free and open source! Let's have a look at his lung oriental articulated dragon. You are free to edit remix and fix this file or sell your make whatever you want. The recommended printing materials can be PLA or ABS filaments. Resolution set between 0.15~0.2mm would be fine for your design, and recommended infill is 10%.
Designer: 7Fish
Source: Thingiverse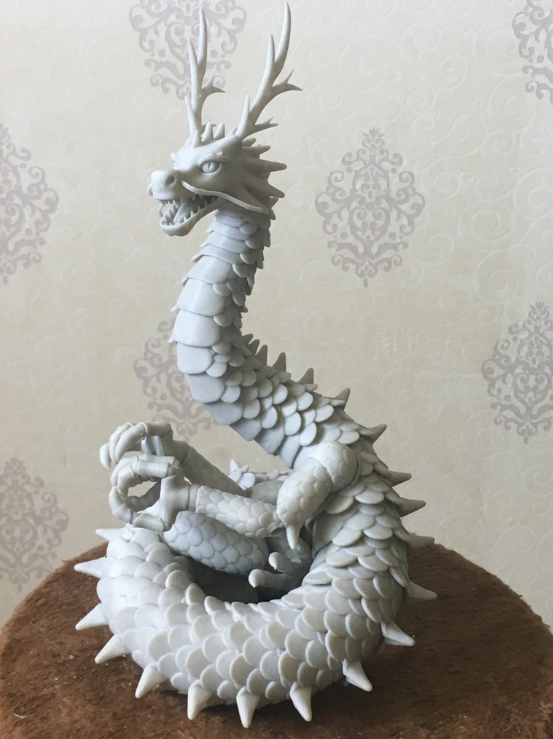 Image Source: 7Fish
6. Seven the Articulated Dragon
If you are looking for a challenge and want to build a difficult articulated dragon. The reason why this design is a challenge to print is that it has 0.05mm tolerance between the ball and soket, and the same size soket and ball are reused on almost every joint, except for some ball joints in the finger claw and wing system. Therefore, if the first one-to-two connector is not assembled correctly, the whole print will fail. It is more than a DIY task as the design is hard to build as the ball itself can break when trying to put the parts together. Try and make it possible!
Designer: 7Fish
Source: Thingiverse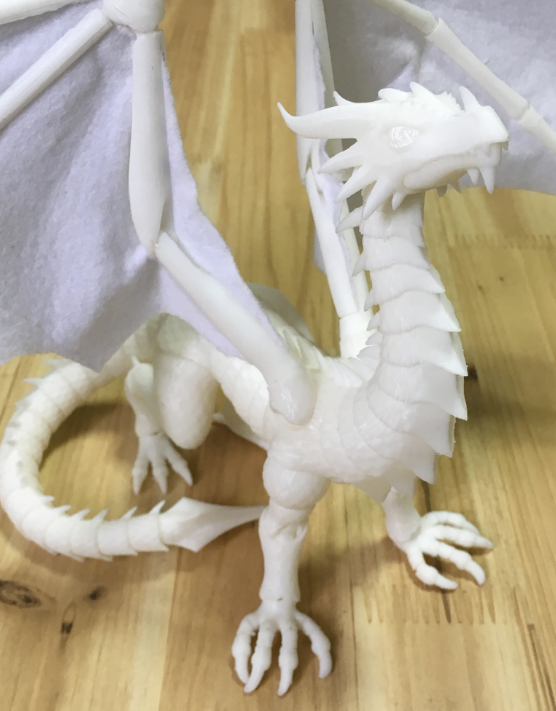 Image Source: 7Fish
7. Sea Serpent
This is a typical articulated sea dragon made by 7Fish. The files are open source for you, containing sets and parts for the whole design. Rafts aren't matter for this design but you'll need supports to print it successfully. Resolution is 0.2mm while the recommended infill is 10%. Please the notes from the creator carefully before starting your Sea Serpent project.
Designer: 7Fish
Source: Thnigiverse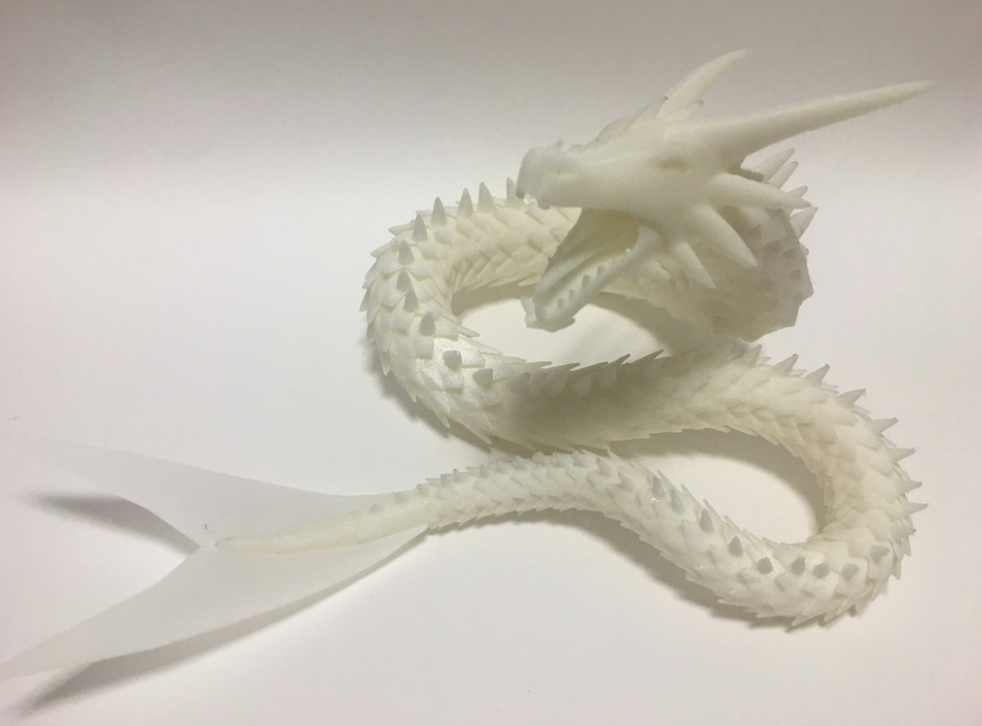 Image Source: 7Fish
8. The Basic Articulated Dragon
Have a look at this articulated dragon, and most of 7Fish's dragons are based on this model. This is inspired by famous Braq the Dragon, and the design is based on ball joint concept. Assemblies are needed after printing the design under 0.15 resolution. The infill is also 10% as the same as other dragon designs from 7Fish.
Designer: 7Fish
Source: Thingiverse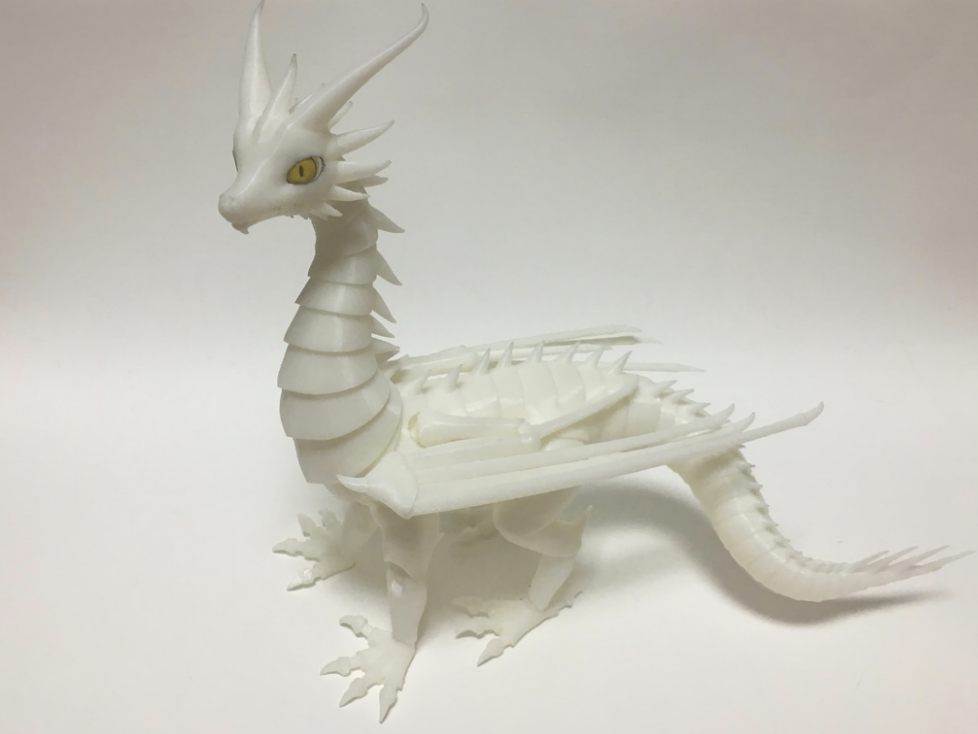 Image Source: 7Fish
9. Print-in-place Articulated Dragon
To print this detailed articulated dragon successfully, a good first layer is mandatory. Make sure a good bed adhesion, and the creator recommended that slow and thick first layer which is printed 8 mm/s and 0.3 mm is a great foundation for your print. Besides, one tip is to cool the layer properly, which prevents curling and warping on overhangs. The price tag is $3.99 for the files.
Designer: McGybeer
Source: MyMiniFactory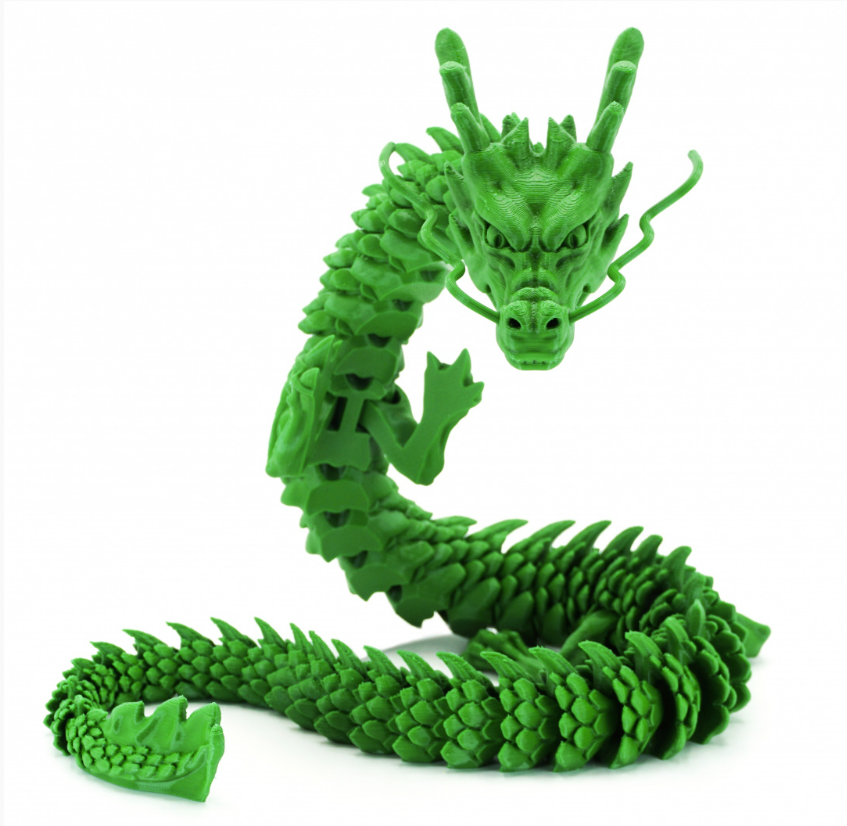 Image Source: McGybeer
10. Articulated Dragon on the Rocks
Mythical dragon looks vivid on the rocks! The dragon is fully articulated and the 3D printable rocks are awesome decorations. If you are looking for something different, articulated dragon with the amazing poses is what you need. It will only cost you $2.5, try and enjoy!
Designer: Stlflix
Source: MyMiniFactory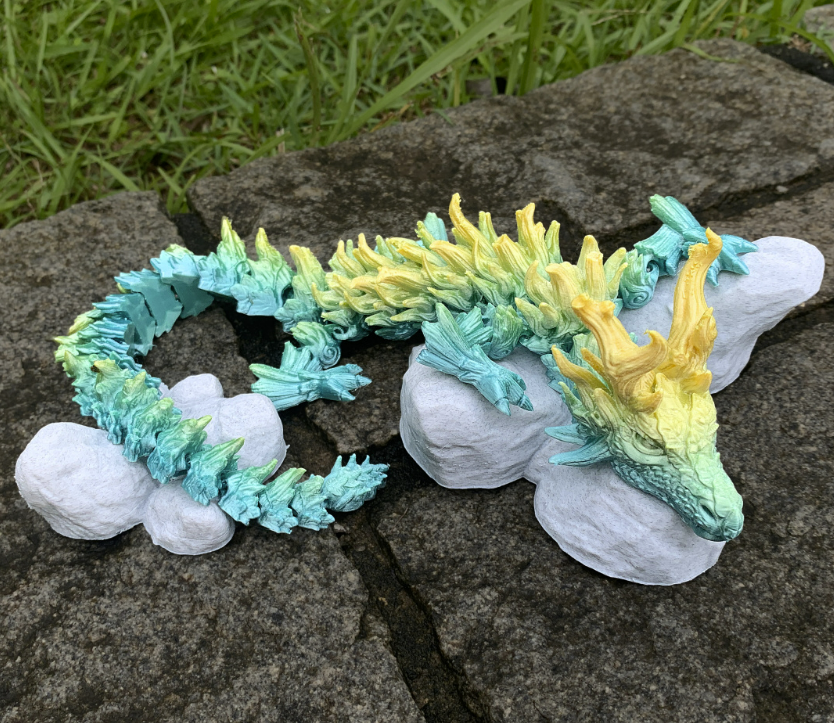 Image Source: Stlflix
Part 3. How to 3D print articulated dragons?
In general, we recommend FDM printer to print articulated dragons as there are so many successful cases of FDM printer and filament settings. And, here are some tips for successful printing, let's learn and practice:
1. Bed Adhesion
As we've mentioned countless times above, bed adhesion plays a critical role and it's the foundation of a successful articulated dragon print. If it fails to stay in place during printing, it can lead to major failures and layer shifts can be happened. Make sure your print bed has perfect adhesion, but if you don't, try rafts.
2. Rafts
You can use rafts to improve bed adhesion on multiple joints. It is quite easy to do so with slicer software, like Cura, slic3r, simplify3D, etc.
3. Bridging
A good articulated parts largely depend on good bridging. Please make sure the material is not brittle, reducing the chances of breaking and warping.
4. Speed
We recommend low speed to print articulated parts, especially for the first layer. The speed around 30mm/s would be fine.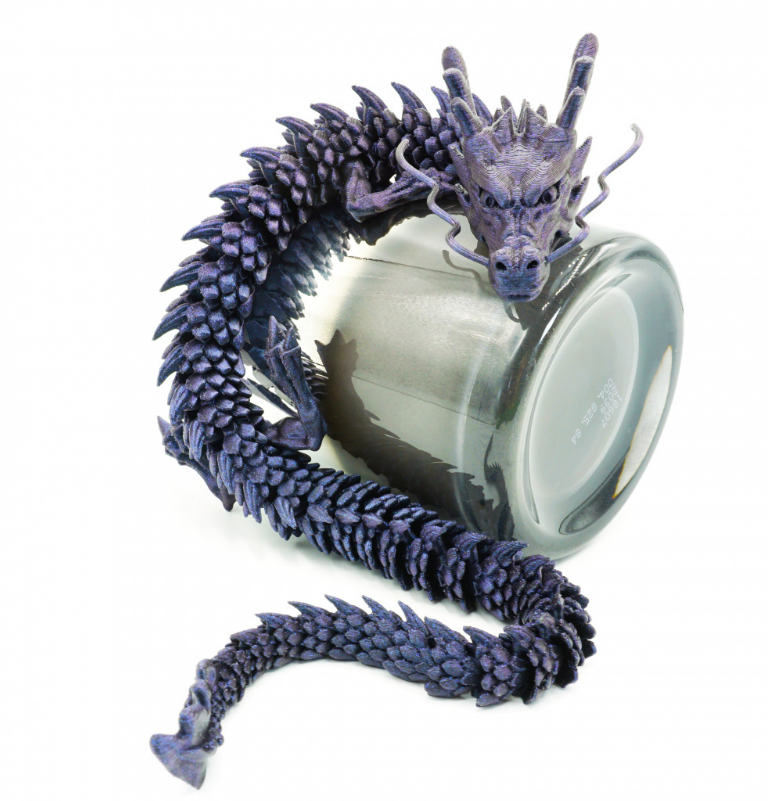 Image Source: McGybeer via MyMiniFactory
Part 4. Online 3D Printing Services for Articulated Dragons
Nowadays, you don't have to own a 3D printer to fulfill your "dragon dreams"! We offer online 3D Printing services, including SLA, SLS, MJF and SLM 3D Printing. With a variety of materials, like resins, nylon and metal powders. Upload your designs on our instant quoting engine and get price with no hidden costs. Our Customer Success Manger will be with you shortly, please feel free to contact us or email hello@wenext.com for more information.