What is anodizing and how does it work? Anodizing is one of the most important critical surface finishing solutions for aluminum and other metal parts. Let's learn what is anodizing exactly, how does it work, and why it is a key process in CNC machining and manufacturing.
Part 1. What is anodizing?
Anodizing, aiming at coating an oxide layer on the surface of a metal part, is an electrolytic passivation process to give the part additional hardness and cosmetic effect. Anodized aluminum is the most common surface finishing process, while other metals such as titanium, zinc, magnesium, niobium, zirconium, hafnium, and tantalum can be applied anodizing as well. The reason why it is called anodizing is that the part to be processed forms the anode electrode of an electrolytic cell. When a bare metal part is just machined, it may not achieve the specified properties as we desired. Utilize anodizing not only increase wear and corrosion resistance and ensure a longer lifespan, but provide better adhesion for painting. If you are looking for better cosmetic effects and want to retain them as long as possible, anodizing is what you need. Anodizing can also be used to protect threaded components from galling and to generate a dielectric film for the electrolytic capacitor. Generally, anodic films are stronger and giving more adhesion than most types of metal plating, but result in more brittle. Meaning that the anodized metal parts are less likely to crack and flake from aging and wear, but more prone to cracking under the circumstance of thermal stress.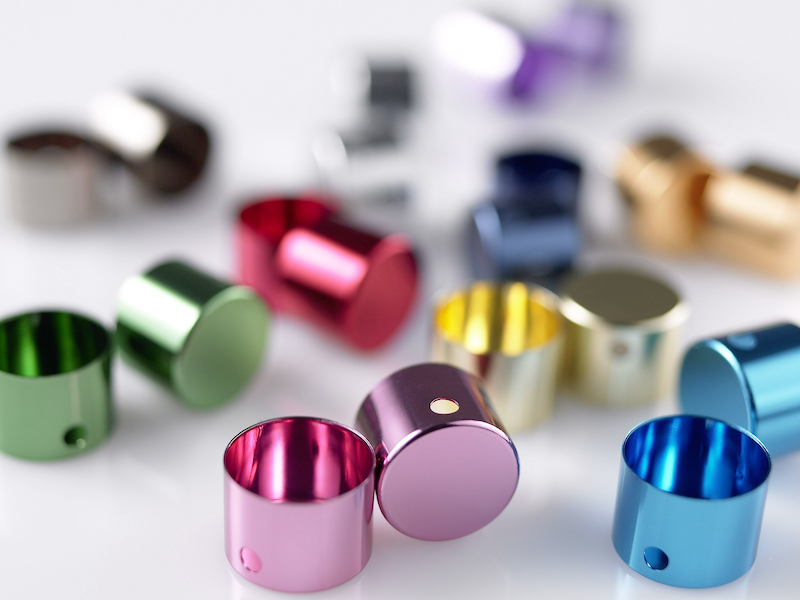 Image Source: FINISHINGANDCOATING.COM
Part 2. Anodizing Types
There are different types of anodizing to enhance performance of final metal parts, amongst the most common types are Chromic Acid Anodize (Type I), Sulfuric Acid Anodize (Type II), and Hard-coat Anodize (Type III). You can find each type of anodizing matches with different materials and manufacturing purposes. Let's take a closer look of Type I, Type II, and Type III anodizing.
Type I - Chromic Acid
Chromic acid is one of the earliest processes for anodizing, which also known as the Bengough-Stuart process. Type I anodizing is capable of creating thinner, and more opaque films that feature attributes of soft, ductile, and self-healing. It can be applied as a pretreatment before painting, but it makes harder to dye the metal parts. However, type I is not a preferred method because of the safety regulations regarding air quality control. And when type II sulfuric acid meets the tolerance requirements, type I will not be the top choice.
Type II - Sulfuric Acid
Sulfuric acid is the most common, popular, and widely used method to create an anodized coating, which is also a cost-effective solution. Type II anodizing is used to increase tear and wear resistance, corrosion resistance, and to retain lubricants. It is an ideal solution for metal parts that require a hard, tough, and robust surface. Besides, type II gives a clearer film compared with other forms of anodizing, making it a more versatile method when you need to dye the parts. Sulfuric acid anodized parts are widely used as military weapons, mechanical hardware, and construction components.
Type III - Hard-coat
Hard-coat anodizing is being able to produce a harder anodized surface finish. Type III anodizing is always worked with sulfuric acid, and the key distinction is that type III offers denser, thicker to the surface finish, which makes the metal part more durable and robust. It is also called engineered anodizing as the technique is highly suitable for industrial applications such as gears, valves, pistons, etc., and harsh using scenarios like high friction and corrosion environments. Hard-coat anodized metal parts are extreme resistance to wear and tear with improved electrical insulation.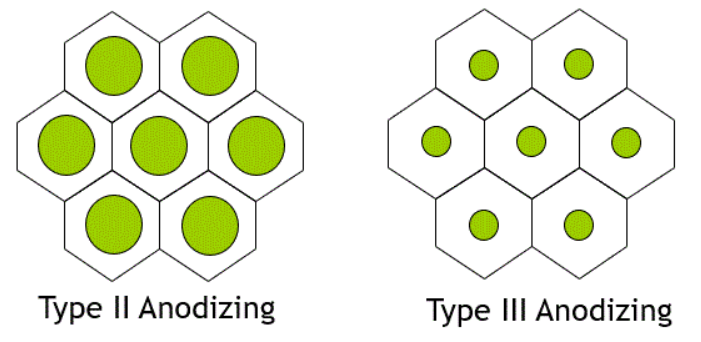 Image Source: Anodizing World
Part 3. How does anodizing work?
It is not difficult to figure out how does anodizing work because all the processes are based on its name. First of all, prepare a container that fills with acidic electrolyte solution. The solution consists of chemical compounds, sodium phosphate, for instance. Then positive and negative ions are swimming in the container. And connect the part required for anodizing to a positive terminal of an electrical circuit, which is also called the process of an anode. Immerse the part in the acidic electrolyte solution container and fix the part so that it will not move around during the process, and then you can move on to the next steps.
Connect the negative or cathode of the circuit to the meta electrode in the container. When you activate a voltage through the circuit, the negative electrode attracts positive ions (cations) from the part, and the part attract negative O2 ions (anions) through the solution. When the positive ions leave the surface of the part, it becomes porous and reacts with the negative O2 ions to form an oxide layer.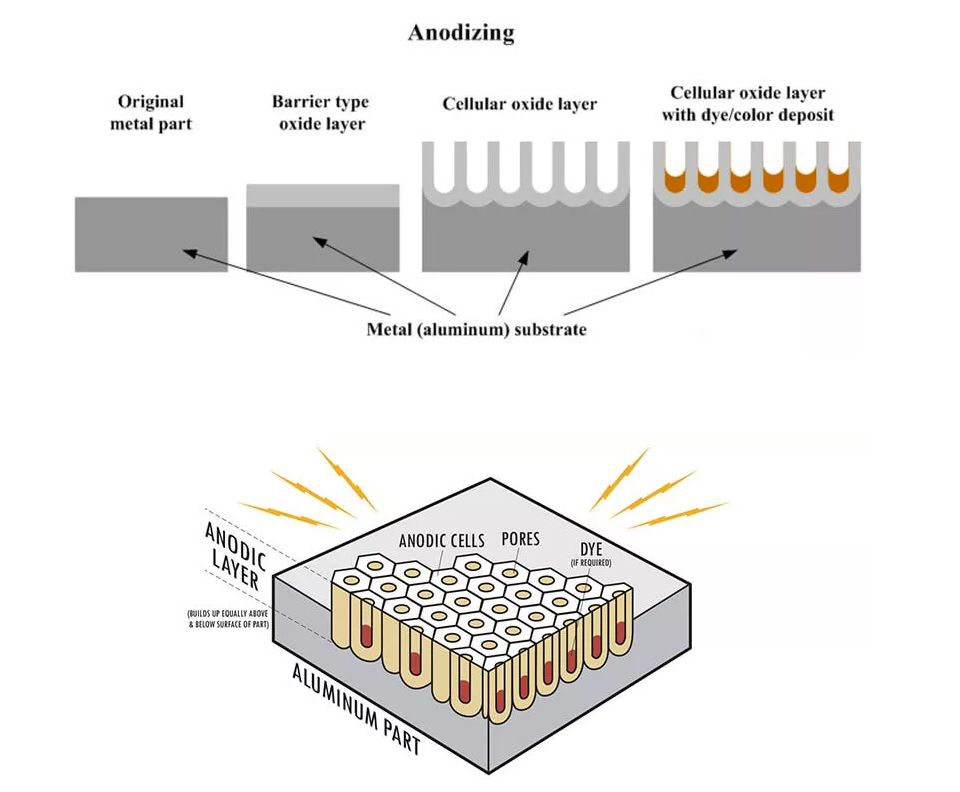 Image Source: 3E Rapid Prototyping
Part 4. What is the purpose of anodizing?
Anodizing is one of the most effective methods to make robust and high-quality aluminum parts, by providing a superior oxide layer on the surface. The reason that largely determine whether to use anodizing is that if you are looking for a more durable part with longer life span. Anodized aluminum parts are not prone to crack, peel, or chip over time, which is outperform other coating methods like powder coating or painting. Anodizing offers great adhesion to the surface finish, bonding the oxide layer with the material surface together seamlessly.
Anodizing is famous for its superior resistance to wear, tear and corrosion, making it ideal for parts that use a lot and even under harsh environment. If your final parts are going to use as mechanical components, and you are not available for multitasks like oiling, conditioning, and repainting, anodizing meets your requirements. Besides, giving a specific and detailed color to the parts by anodizing is feasible, and you will be pleased with both the cosmetic effect and the quality. Using anodizing to gain a long-lasting color which will not fade and wear by UV exposure and other forms of damages. It is because during the anodizing process and reaction, the color agents will seep into the hollow pores and creating a high-density structure. There are various color options provided, depending which type of anodizing utilized. Moreover, anodizing aluminum by Type III produces an electrical insulator with good properties.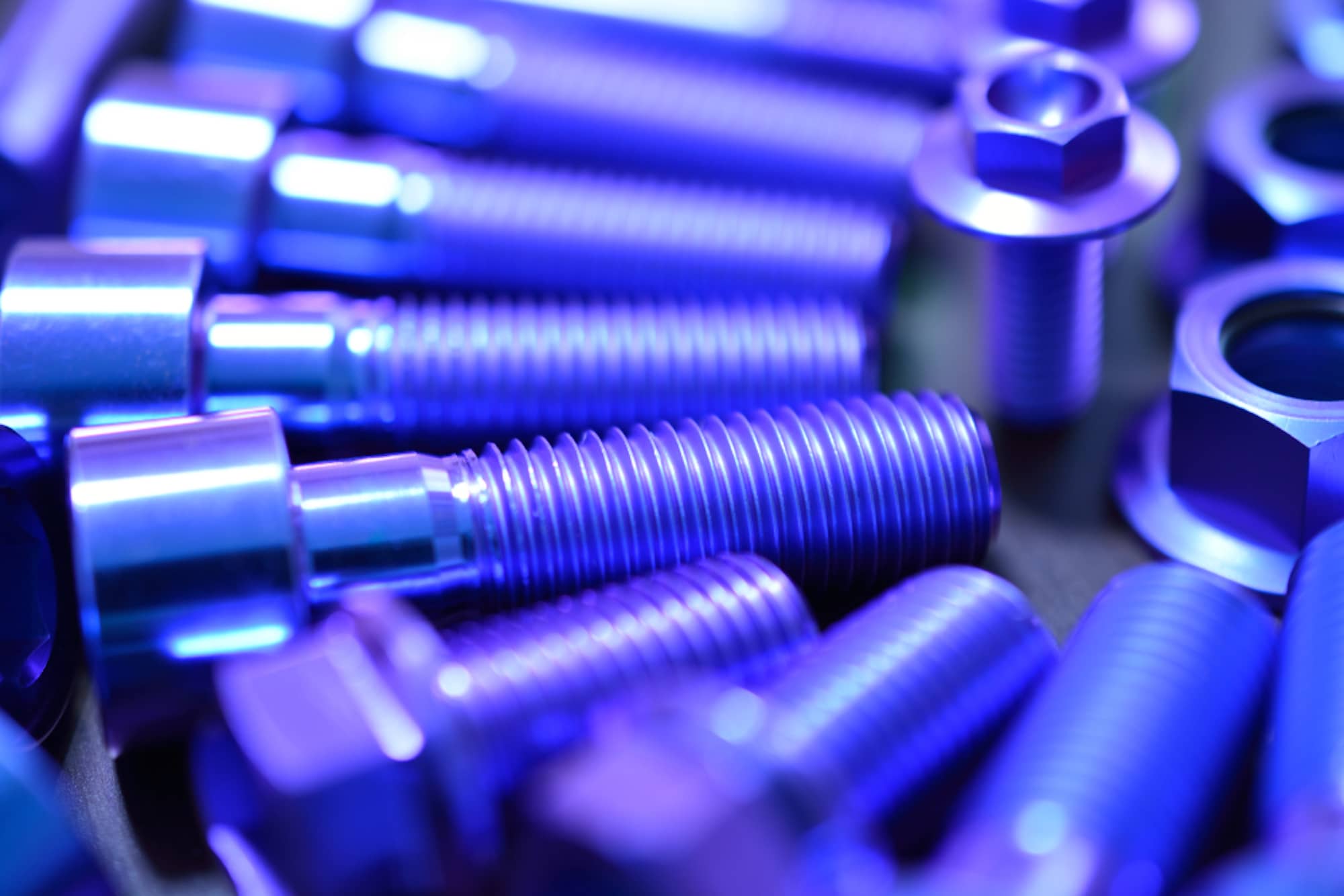 Image Source: Fast Radius
Part 5. Anodizing vs Electroplating
Anodizing is used to increase hardness of the surface finishing, providing excellent abrasion and chemical resistance to the parts. While electroplating is a process that creates a thin coherent coating on an electrode by using an electric current to reduce dissolved metal cations, also positively charged ions. In the process, immerse a metal part into an electrolyte solution with dissolving ions of another metal type. Then activate electric current through the solution and the metal part, resulting in the ions in the solution adhere to the surface finish of the metal part. It is the process of plating, and the longer the metal part is submerged in the solution, the thicker the plating layer becomes.
Therefore, anodizing resembles electroplating a lot in many ways, and they share some same advantages as well:
1. Mechanical durability. Applying anodizing or electroplating can enhance mechanical durability and deliver great wear, abrasion, and tear resistance to the metal piece. Anodized or electroplated metal parts are not easy to crack and peel over time, offering a much longer life span to the meal parts. Durable and robust metal pieces can be made with anodizing and electroplating.
2. Chemical resistance. Both anodized and electroplated parts have superior resistance to chemical and other corrosion solutions. If the final part will be applied in harsh working environment, anodizing or electroplating is an ideal solution.
3. Cost-effective. Anodizing and electroplating are affordable and cost-effective ways to make detailed and high-quality surface finish. It is not only indicated that the whole process of anodizing and electroplating is affordable, but the final part is given better mechanical performance and durability, which save the costs comprehensively.
However, if you have to choose between anodizing and electroplating, consider if your part requires other properties, including heat resistance, conductivity, and color. Electroplated parts feature excellent heat resistance and good electrical conductivity. While anodizing offers great color stability and aesthetic performance. And anodized aluminum parts can be electrical insulator.
As we always say that one-fit-all manufacturing solution is non-existent. Both anodizing and electroplating are ideal surface finishing solution to make industrial components and can be utilized in a variety of applications. When it comes to the decision between anodizing and electroplating, choose the one based on what mechanical properties the part require and where to use to the final part, then you can find the preferred solution to manufacture.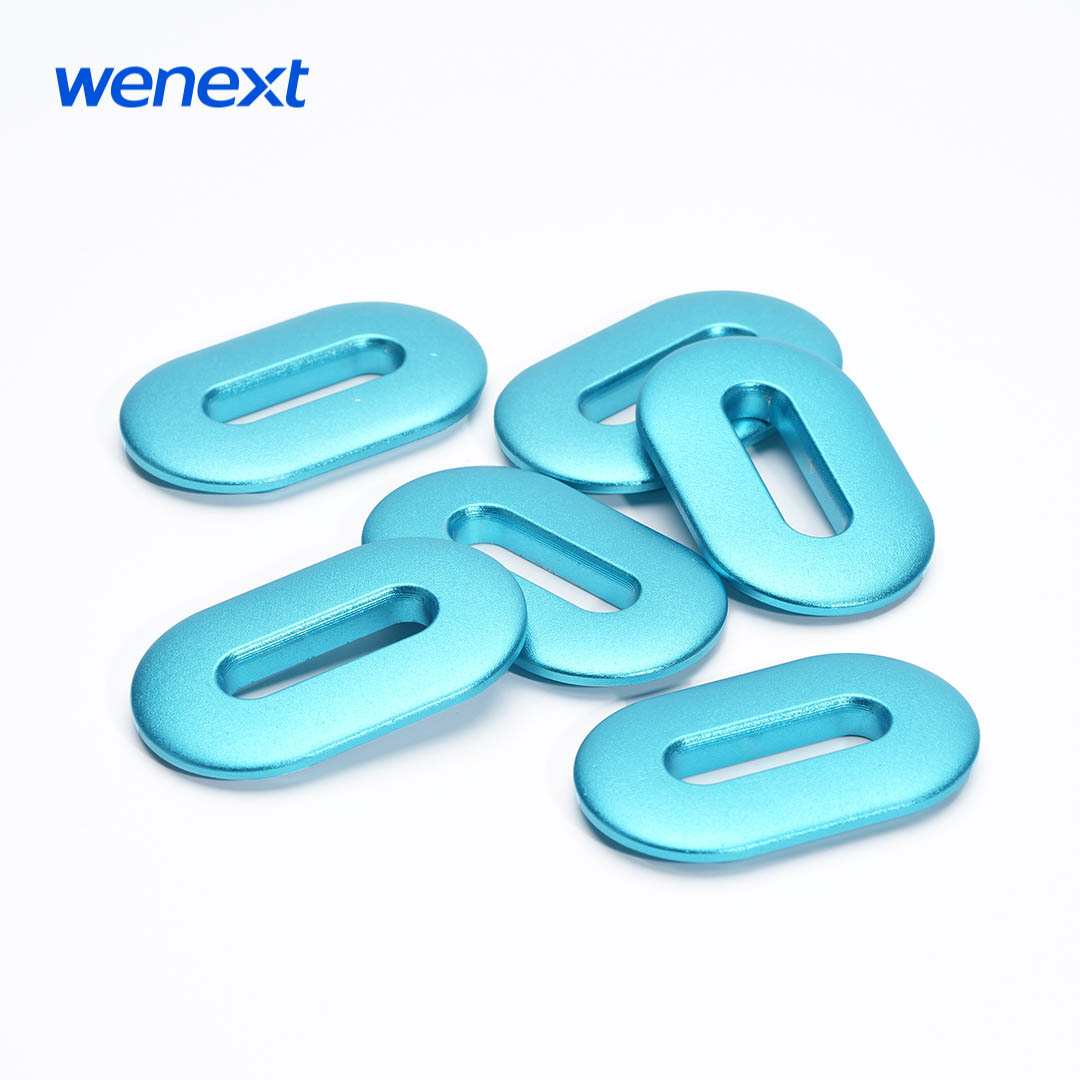 Please feel free to try instant quoting on our website or contact us hello@wenext.com if you are interested.