Nowadays, 3D printing has been closely integrated with the manufacture of footwear process chain, from the design of new shoes, shoe mould development and manufacturing to the final production of shoe components such as insoles, soles and uppers, all are being incorporated into 3D printing technology. Some world's leading sports shoe brands also focus on 3D printed shoes.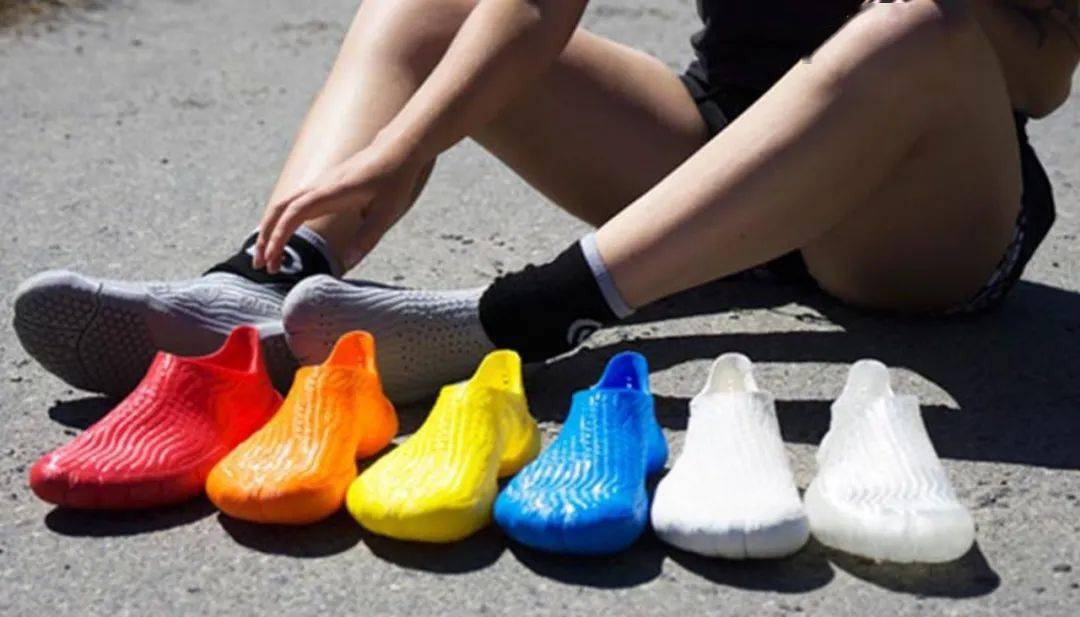 Image Source: Prevolve
Part 1. Why does footwear industry use 3D Printing?
Nowadays, 3D printing has been closely integrated with the manufacture of footwear process chain, from the design of new shoes, shoe mould development and manufacturing to the final production of shoe components such as insoles, soles, and uppers incorporated into 3D printing technology.
In the final product manufacturing of sports shoes, 3D printing of shoe midsoles is attracting attention from global famous sports shoe brands for its innovation in design, performance, appearance and manufacturing supply chain. It has developed into a new generation of shoe midsole manufacturing technology. At the same time, the exploration of 3D printing of shoe uppers is also in close progress and now has entered the early stage of commercialization for small batch production. The gradual maturity of diversified 3D printing technologies for soles and uppers provides the feasibility of achieving complete shoe additive manufacturing - 3D printing.
Manufacturers of footwear, through 3D printing technology, effectively reduce production costs. There will be no loss of edge remnants so that the production is more accurate and precise, and the designer can design without limitations. 3D printed shoes series can help companies become widely favoured sports shoe brands. 3D printing footwear technology has become a must for all sports shoe brands.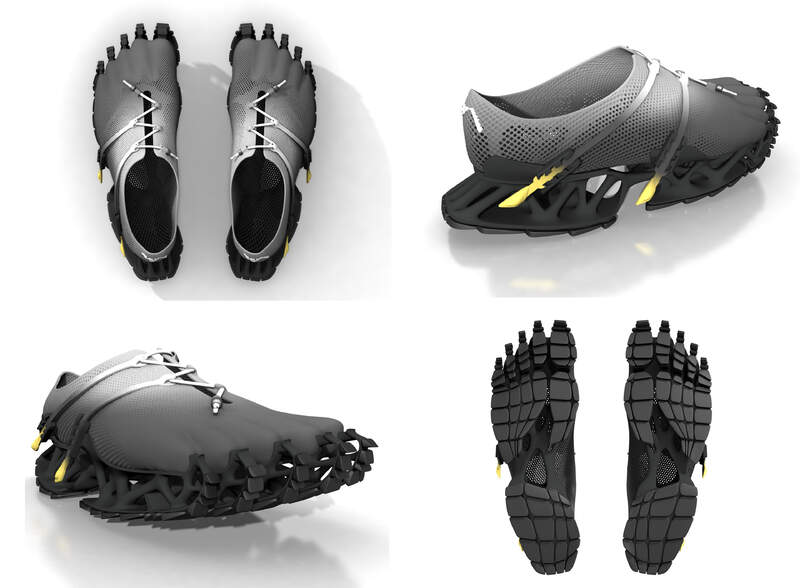 Part 2. What 3D Printing Technologies and Materials are used in footwear industry?
3D printing shoes, disassembled is "3D design" + "printing shoes", from the process and function of 2 directions to make the following distinction. Process: can be divided into FDM - fused deposition modelling, DLP - stereo light curing moulding, and SLS - selective laser sintering.
FDM (Fused Deposition Modeling) is a 3D printing technology developed after the LOM and SLA processes. Fused deposition, sometimes called fused filament deposition, heats and melts a filamentary hot melt material (usually ABS or PLA) and extrudes the material through an extruder with a micro-fine nozzle. The material used for insoles made by FDM 3D printing technology is soft plastic-TPU.
DLP (Digital Light Procession) is digital light processing. That is, the image signal is digitally processed, and then light is projected out and based on the digital micromirror element developed by Texas Instruments - DMD to complete the visual digital information display technology. The basic principle is that the digital light source is in the form of surface light on the surface of the liquid photosensitive resin for layer-by-layer projection layer-by-layer curing moulding. The material of 3d printed insoles made by DLP is mainly polymer elastic material.
SLS(Selective Laser Sintering) was first proposed by C.R. Dechard of the University of Texas at Austin in 1989 in his master's thesis and is now a very mature and widely used 3D printing technology. The SLS process uses powdered materials. The SLS process uses powdered material and a selective laser sintering process in which a layer of powder is laid flat on the upper surface of the moulded part using a press roller. A CNC system scans the laser beam following the layer's cross-sectional contours to bring the powder's temperature to the melting point, thus sintering and bonding to the moulded part below.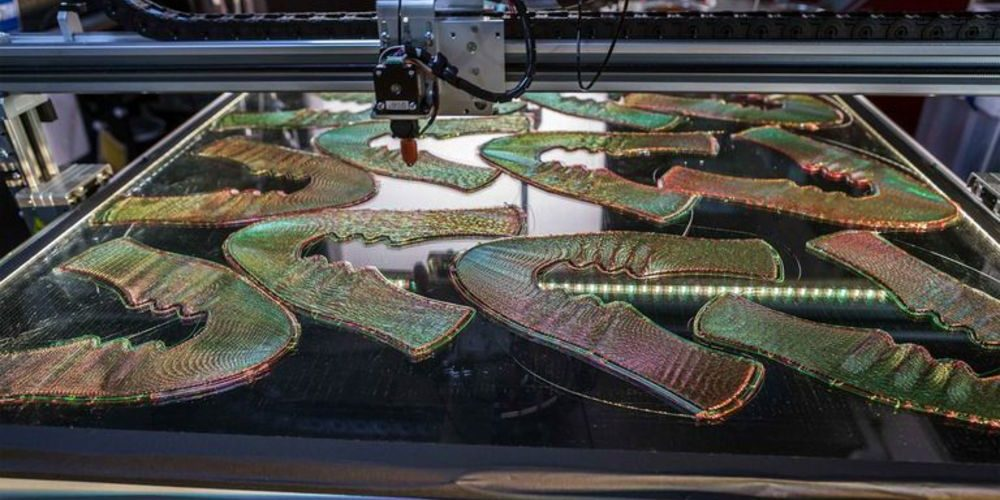 Image Source: Nike
Part 3. Footwear Pioneers Uses 3D Printing
1. Adidas
The application of 3D printing technology in footwear probably began in 2013, when Nike first used 3D printing technology to manufacture soccer shoes. Later major footwear manufacturers, including Adidas, New Balance, and Under Amour, began to embrace 3D printing technology, better known as Adidas 3D printed shoes FutrureCraft series, which is the world's first to achieve 100,000 pairs of sales of 3D printing shoes.
Generally speaking, Adidas an ordinary sports shoes from the design to the market time of 18 months or even longer, known as "the most powerful running shoes ever" Adidas Boost from the development to the application of sneakers with six years, but the reality is that most of the sports shoes on the shelf time is not even more than one year.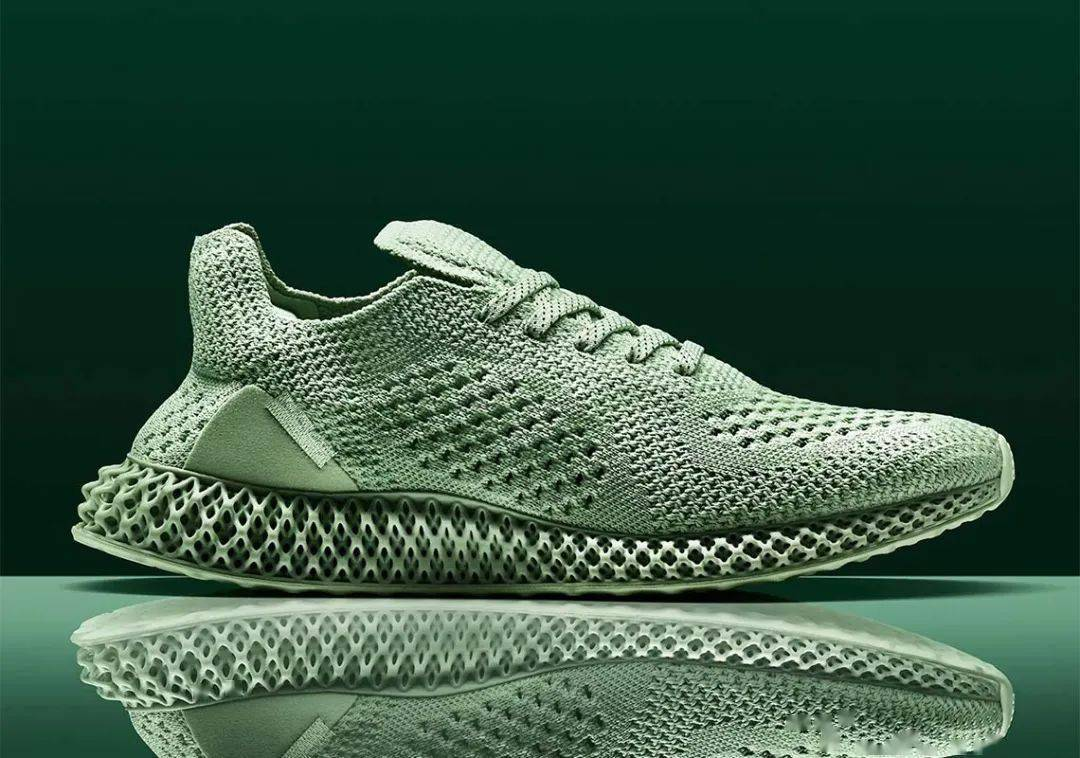 Image Source: The Adidas FutureCracft
2. Nike
All major brands are developing new sneaker technology. Nike adopted 3D printed shoes as early as 2013. Nike released 3D printed Zoom Vaporfly Elite Flyprint, new technology running shoe, in 2018.
This Nike 3d printed shoe uses a new Nike Flyprint 3D printed upper with ZoomX cushioning technology, which can be called Nike's current top technology formula, refreshing product development and sales changes from start to finish, whether for each of you and me or the entire sneaker scene is a major milestone change!
This pair of Nike Zoom Vaporfly Elite Flyprint makes a breakthrough in technology. Compared to the previous 3D printed products from Nike or the brand, this is not a solution for the midsole, but the first time 3D printing is applied to a functional upper. The midsole of the Nike Zoom Vaporfly Elite Flyprint still uses the same top-notch ZoomX cushioning technology released last year, which not only reduces the weight of the shoe but also provides an energy return rate of 85%.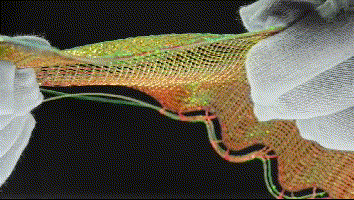 Image Source: Nike
3. New Balance
New Balance began working with 3D printing company Formlabs in 2017 to develop high-performance materials. After more than two years of collaboration, they have developed and patented a photosensitive resin material called Rebound Resin. It makes new balance 3D printed shoes lighter than the old versions.
This material is flexible and durable, making it suitable for producing high-performance athletic footwear and apparel products. The lattice structure made of Rebound Resin was used as the heel of the redesigned 990 Sport, helping to maintain the cushioned experience found in the classic style while being 10 percent lighter than the New Balance 990v5. This foundation has now been further enhanced with the FuelCell Echo Triple shoe. Using Formlabs 3D printing to develop forefoot technology The standard version of the FuelCell Echo sneaker was originally released for New Balance's FuelCell platform, specifically designed for forefoot running shoes.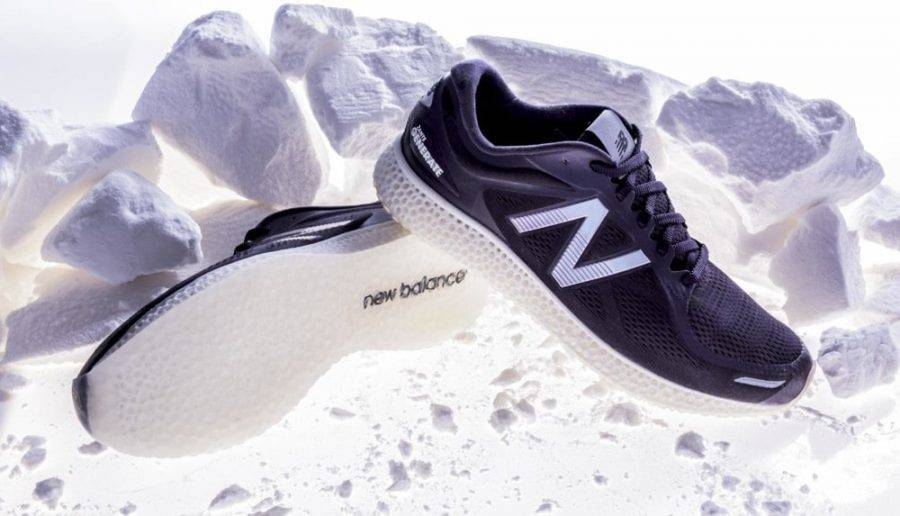 Image Source: The New Balance Zante Generate.
Part 4. 3D Printing Services at
Wenext
More and more shoe manufacturers are choosing to cooperate with companies that offer 3D printing to improve the efficiency of producing designed shoes and reduce costs. And Wenext is a company that provides 3D printing services. Wenext has professional SLA, MJF, SLS, and SLM 3D printing technologies used in 3D printed sneakers widely. And our customer success manager will reply to you shortly after leaving your information on the website.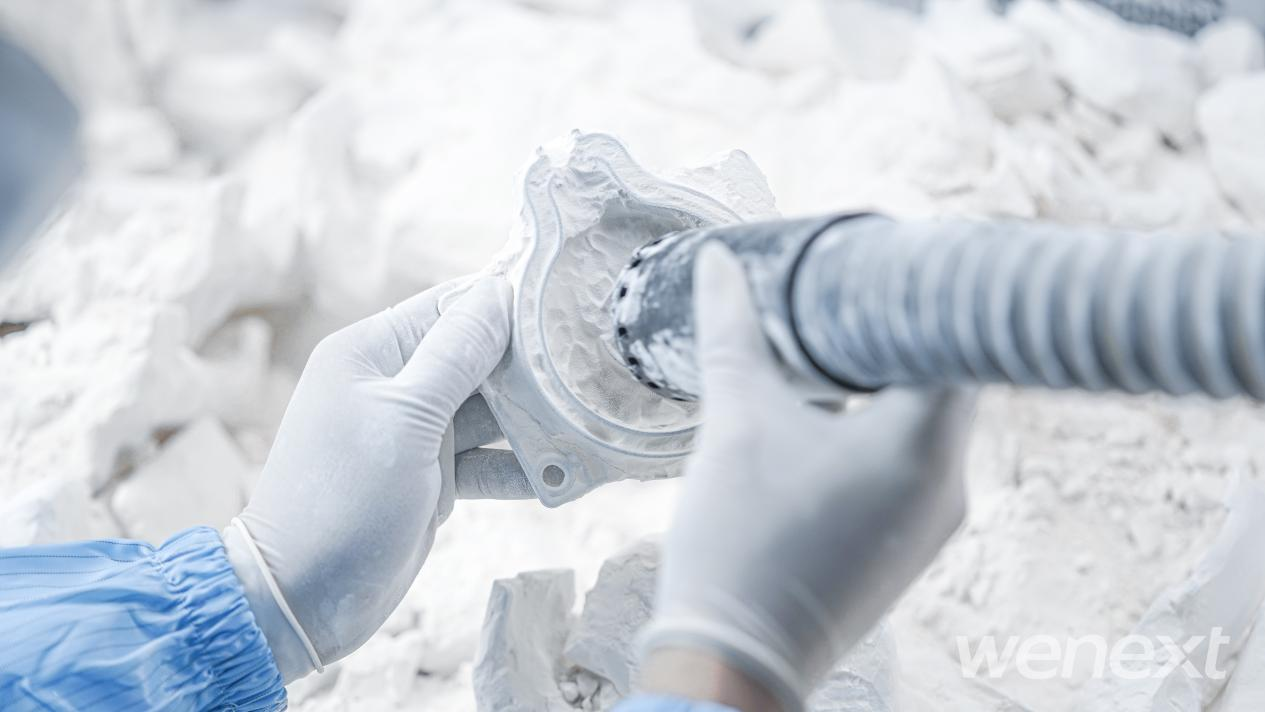 Please feel free to try instant quoting on our website or contact us hello@wenext.com if you are interested.