CNC machining is one of the most common manufacturing technologies in the industry, offering high precision, tight tolerance, and high quality. It is a popular technique to make end-use metal or plastic parts. What is CNC machining? CNC machining is a subtractive manufacturing process that controlled by pre-programmed computer software. CNC stands for Computer Numerical Control. The pre-programmed software leads the movement of CNC machine and remove materials of the parts. While the machinery was controlled through the whole process, including mills, lathes, routers, etc. Cutting tools are used to shape, cut, and create various prototypes of which materials can be metal, plastics, and even wood. To manufacture parts with different geometries, there are two main types of CNC machining systems, CNC milling and CNC turning. CNC machining plays its part in manufacturing industry, especially when on-demand low-medium production matters most.
Part 1. CNC Machining Services
In general, CNC milling and CNC turning are the most common techniques of CNC machining services. Many machining suppliers provide these two services to produce parts with different geometries and specifications. Amongst, CNC milling is the most popular machine in CNC manufacturing as it is highly suitable for making extremely complex parts. Milling machines utilize rotary cutters to remove material from a part mounted on the machine bed. There are different types of CNC Milling systems, the most common type is 3-axis CNC machine. 3-aixs means the system has 3 linear degrees (the X, Y, Z axes) to produce parts. While the advanced one is 5-axis CNC machine, which owns 5 degrees of machining freedom is ideal for simplifying manufacturing steps.
CNC turning machines remove material from workpiece mounted on rotary chucks by utilizing stationary cutting tools, which is an ideal solution to producing parts that are symmetrical about a central axis. CNC turning also called CNC lathes, which usually used to make cylindrical parts. Besides, there is a condition that CNC turning systems can be equipped with CNC milling tools, which means non-cylindrical parts is possible to be manufactured as well. Combining high productivity and efficiency of CNC Turning with machining capabilities of CNC Milling, the system is being able to manufacture parts in a variety of geometries with rotational symmetry.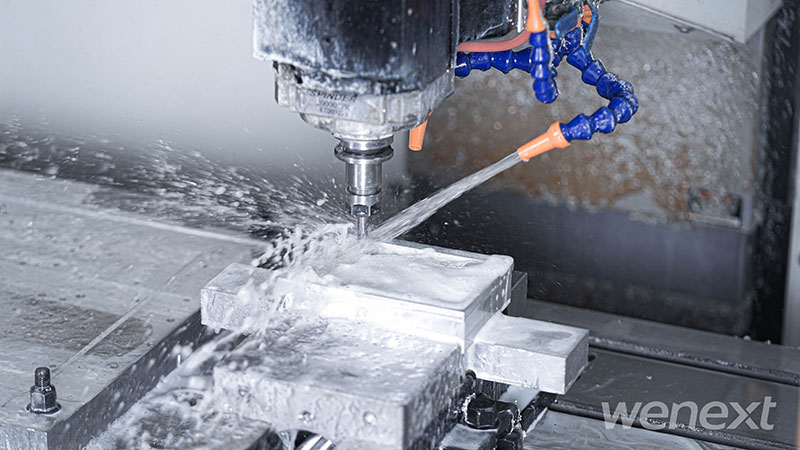 Part 2. How does CNC machining work?
CNC machines produce parts based on CAD designs, let's see how CNC machines produce custom parts step by step:
1. Like 3D Printing needs slicer software to covert the STL file so that 3D printers can read and understand each layer data of the model, the first step for machining is to convert the CAD file into a language that the machine can work with, that's G-code.
2. The operator will place the material that is cut to a specific size on the machine bed. Normally, the piece of the material is always called the blank or workpiece. Then it is time to mount the workpiece on the fixtures or by a vice.
3. As the computer controls the CNC cutting tools to move to the pre-set coordinates, so precise positioning and alignment of the workpiece is significant to manufacture high-accuracy parts. Special metrology tools, probes, for instance, are ideal solutions for this step.
4. Then, the workpiece is ready for machining. The machine uses professional cutting tools and rotating the at high speeds to remove material from the workpiece. However, at the very first steps, the machine removes at a relatively low speed and accuracy to gain an approximate geometry.
5. Sometimes, the model is not being to achieve full features by single setup from the cutting tools, to flip the workpiece is necessary.
6. Deburr the machined parts to remove small defects manually. And the parts may send for post-processing for special surface finishes or colors, etc.
Part 3. How much does CNC machining cost?
CNC machining costs mainly affected by three factors, which are CNC machine prices, raw material costs, and labour costs. Let's break these factors down and see how expansive CNC machining can be:
1. CNC Machine Prices
Basically, there are multiple types of CNC machines in a CNC machine shop, such as CNC milling, CNC turning, CNC router, etc. To manufacture custom CNC parts, normally we should choose a suitable CNC machinery based on the part design, material, surface finish requirements, and part volumes. The CNC machine shop with rich experiences and massive in-house manufacturing capabilities is being able to help customer choose the right CNC manufacturing method to make parts, in order to reduce cost and ensure high quality. Precision and cost per hour are always the main factors to decide which type of CNC machine to use to create custom CNC machined parts. Let's take a look at 3-axis, 4-axis, and 5-axis CNC machines prices in an industrial CNC machine shop.
3-axis CNC Machines
The cost of a production level 3-axis vertical machining center goes from $150,000 to 300,000.
4-axis CNC Machines
The price range of a 4-axis CNC machine is from $200,000 to $400,000, depending on different manufacturer brands in the industry.
Entry Level 5-axis CNC Machines
Normally, the price of a 3+2 5-axis CNC machine is from $150,000 to $500,000, depending on the functionalities.
Production 5-axis CNC Machines
The price of a high-end full 5-axis CNC machines can be over $500,000.
2. Raw Material Costs
As CNC machining is a process of subtractive manufacturing to make parts by removing material from the workpieces. Sometimes, it is understanding CNC machining is considered a waste of original material. So, it is necessary to consider raw material cost in CNC machining process. Most of materials can be machined by CNC machining, including brass, copper, aluminum, titanium, steel, a variety of plastics, wood or even stone. To reduce cost, it is significant to use the workpiece in a perfect rate and to know what is the common price of the workpiece in the industry. It is wise to use less workpiece to make more parts in per order. Let's see some popular raw materials prices on the market (per 6" * 6" * 1" sheet).
Common Metal Workpieces:
Aluminum 6061 costs about $25 per block
Aluminum 7075 costs about $80 per block
Stainless steel 304 costs about $90 per block
Popular Plastic Workpieces:
ABS costs $17 per block
POM (Delrin) costs $27 per block
Nylon 6 costs $30 per block
3. Labour Costs
CNC machining is a professional manufacturing process that needs trained and experienced engineers to deal with intricate product designs, including dimensions, tolerance, raw material, surface treatment requirement etc. Besides, CNC machining requires technical engineers to build machining program before the task is dispatched to operators to process the custom parts with the machines. The set-up cost is one-time charge, which means the rest of the same products in per order shouldn't be charged again. It is a big advantage to make part with low-medium volume orders.
However, CNC machining technology has not changed significantly over the past few years. Machine innovation, tooling, and CAM software optimize the production cycles, improving quality without significantly impacting the cost of CNC machined parts.
Part 4. CNC Machined Parts
Generally, there are many materials can be machined with CNC machining, such as metals, plastics, wood, etc. We will introduce some common metals and plastics so that you can choose the most suitable material for your CNC machined parts accordingly.
1. Metals
Metals are the main materials in CNC machining, and they have extensive range. Usually, we will consider hardness, strength, and thermal resistance when selecting CNC metals.
Aluminum
Aluminum alloys is highly suitable for light-weight designs with its excellent strength-to-weight ratio. Compared with steel, aluminum has lower strength and hardness, but adding a protective layer through anodizing, aluminum parts can have high strength and corrosion resistance. Aluminum is easy to machine and it is a cost-effective for mass production. CNC milled aluminum alloys can be used in aerospace, automobile, medical industry, and consumer electronics industry, etc.
Steel
A variety of steel alloys are available and accessible for CNC machining. If the part requires higher formability and stronger welds, such as gears, shafts, or some high stress applications, steel alloys can be the option. Stainless steel, mild steel, alloy steel, and tool steel are the main types of CNC steels. When the part needs high strength, high ductility, excellent wear and corrosion resistance, stainless steel is highly recommended. Besides, stainless steel has great machinability and it is easily welded and polished. When cost plays an important role and the application is for general purpose, mild steel (low carbon steel) is suitable. Mild steel also has good weldability, and corrosion resistance. When you consider higher hardness, greater stiffness, and thermal resistance, alloy steel and too steel are exceptional.
Cooper
Cooper delivers great electric conductivity, high corrosion resistance and thermal conductivity. It is commonly utilized in automobile applications, such as cooling systems and heat exchangers, as well as various engineering applications like valves and radiators. Cooper is easy to suffer chemical damage, please keep it away from chemicals like acids and ammonia solutions.
Brass
Brass is one of the most economical CNC milled materials. It has good machinability, excellent electrical conductivity, making it ideal for low friction applications. Brass is commonly used for medical equipment, electronic hardware, engineering, plumbing, etc. But brass lacks in strength.
Titanium
Titanium is the biocompatible CNC milling material with extreme high heat resistance. Featuring light-weight and corrosion resistance, titanium is also not compromising strength and stiffness. It is the ideal material for medical implants, aircraft parts, and jewelry.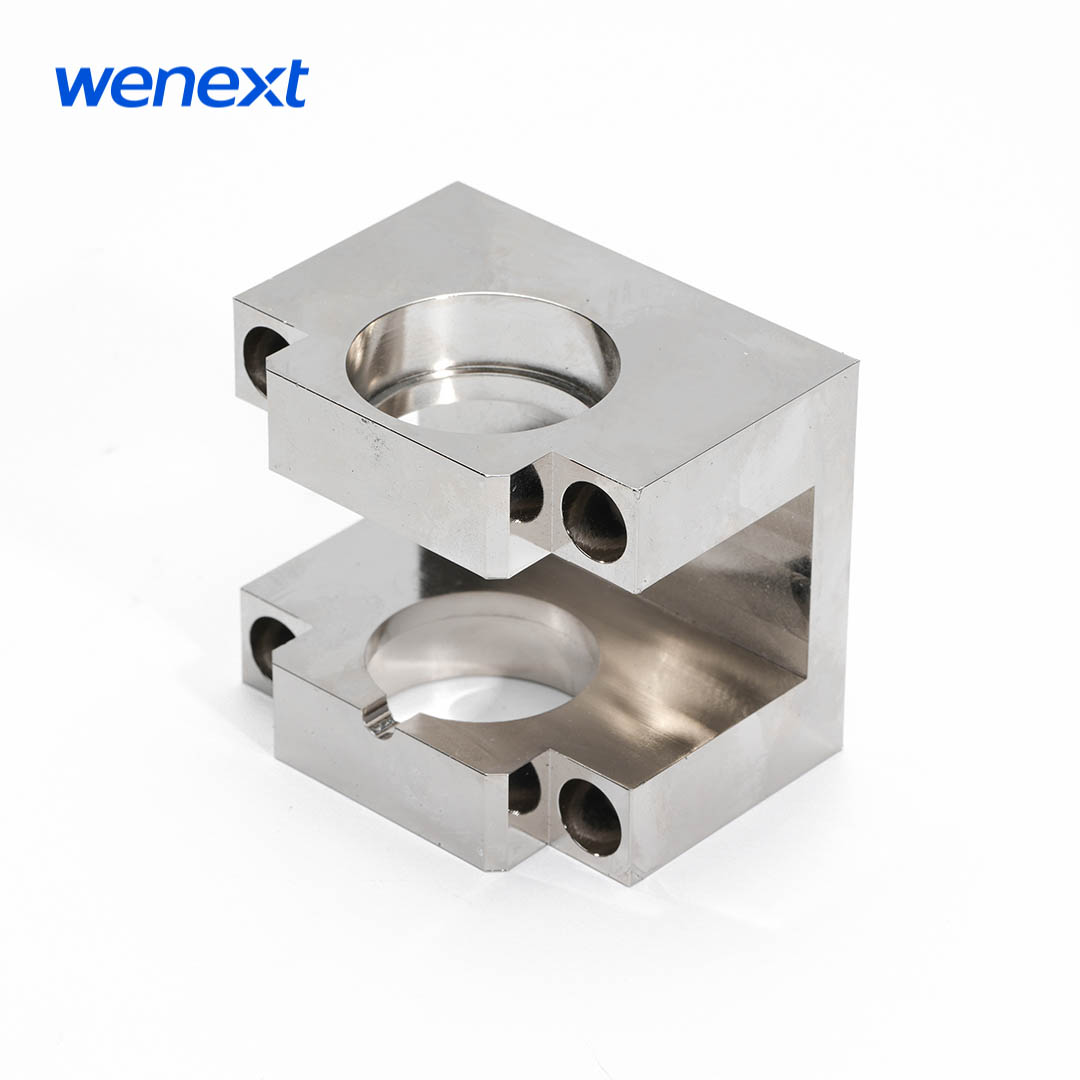 2. Plastics
Plastics are the other solution when the product requires lightweight design, chemical resistance, and electrical insulation.
ABS
ABS, also known as acrylonitrile butadiene styrene is a common thermoplastic polymer, featuring good mechanical properties, good machinability, and high temperature resistance.
CNC ABS parts are usually used as prototypes before mass-production with injection molding.
Nylon
Nylon is a thermoplastic that is easy to machine. With excellent mechanical properties, good impact strength, and high chemical and abrasion resistance, it is usually used for bearings and insulators. Nylon 6 and nylon 66 are the most commonly used nylon in CNC machining. Nylon tends to absorb moisture, so, it should be taken good care in storage.
POM
POM, an engineering thermoplastic, features high machinability and great dimensional stability. While the material has low water absorption. POM is suitable for making CNC plastic parts that require high precision, high stiffness, low friction.
PMMA
PMMA, also known as acrylic, is a transparent plastic and a substitute for glass. PMMA is also an economical alternative to PC (polycarbonate). CNC machining PMMA is an ideal solution to produce parts that require excellent optical properties, high UV stability, good tensile strength.
PC
Polycarbonate (PC) is an engineering thermoplastic, offering good optical properties, high strength, high toughness, and excellent dimensional stability. CNC machined PC parts is ideal for applications that require excellent impact strength and dimensional stability, good optical clarity, and exceptional fracture toughness.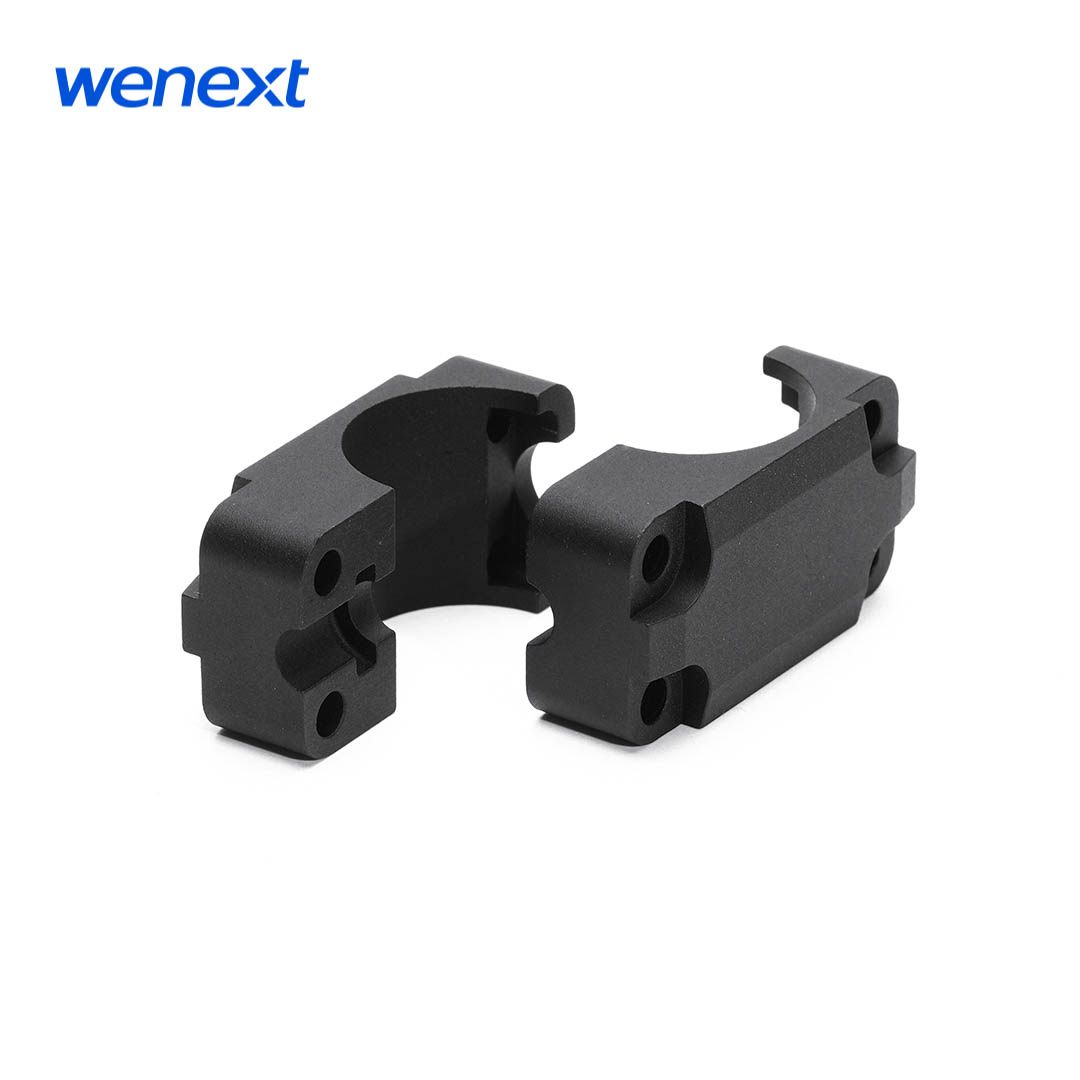 Part 5. Why choose our custom CNC machining services?
1. Online Instant Quotation
Wenext provides instant quotation service: Customer uploads CAD files on our instant quoting engine and choose the materials, and get the price seamlessly. There is no hidden cost and all uploads are secure and confidential. At this moment, we also support customer supplied materials to machine parts.
2. High Quality Parts
The standard tolerances of our CNC machined parts are 100µm, 50µm, 25µm, offering flexibility to our customers so that they can choose the desired tolerance based on the requirements. More importantly, we leverage our quality assurance systems to make high quality CNC parts, including ISO 9001, ISO 45001:2018, supplier audits, CMM and 2D measuring projector, inspection reports, functional inspection, and custom sampling.
3. Fast and Efficient Communications
Communications for global customers are always a big concern. But at Wenext, we offer fast and efficient communications, customer can reach us by emails, phone calls, online chatting. We promise fast response even under the pandemic impact.
4. Various Services
We have CNC milling, CNC turning, and a variety of surface finishing options. Besides, we offer high machinable materials to make tight tolerance parts. For more services and materials, please feel free to email hello@wenext.com or contact our Customer Success Managers.
5. Satisfactory Price
We offer competitive prices for machining services and materials. What matters most is that we can customize the manufacturing solution to make your custom parts with lower costs.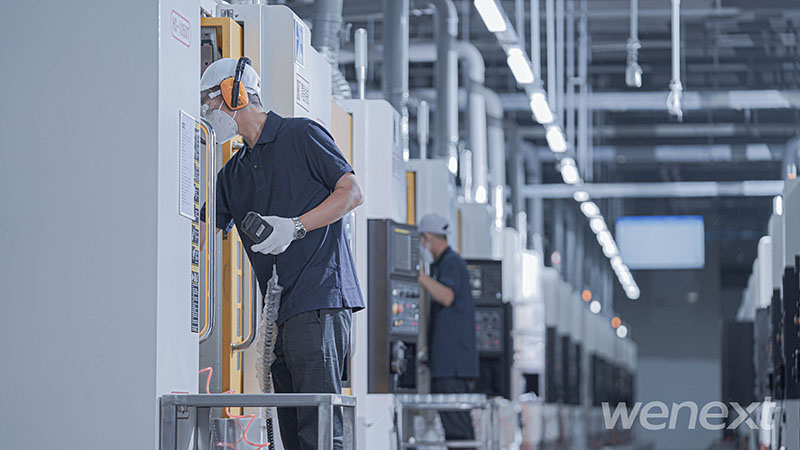 Part 6. CNC Machining Factory
CNC factory (CNC machine shop) is a place where manual or automated CNC machines that cut, form, and shape metal, plastic and even wooden parts. It is not a factory in that sense as CNC factory are much more intelligent and automated than those traditional factories. An intelligent CNC factory is being able to help customer parts with desired specifications, high quality, and good surface finish. Wenext offers professional CNC machining services and peerless precision to our customer worldwide.
Please feel free to try instant quoting on our website or contact us hello@wenext.com if you are interested.